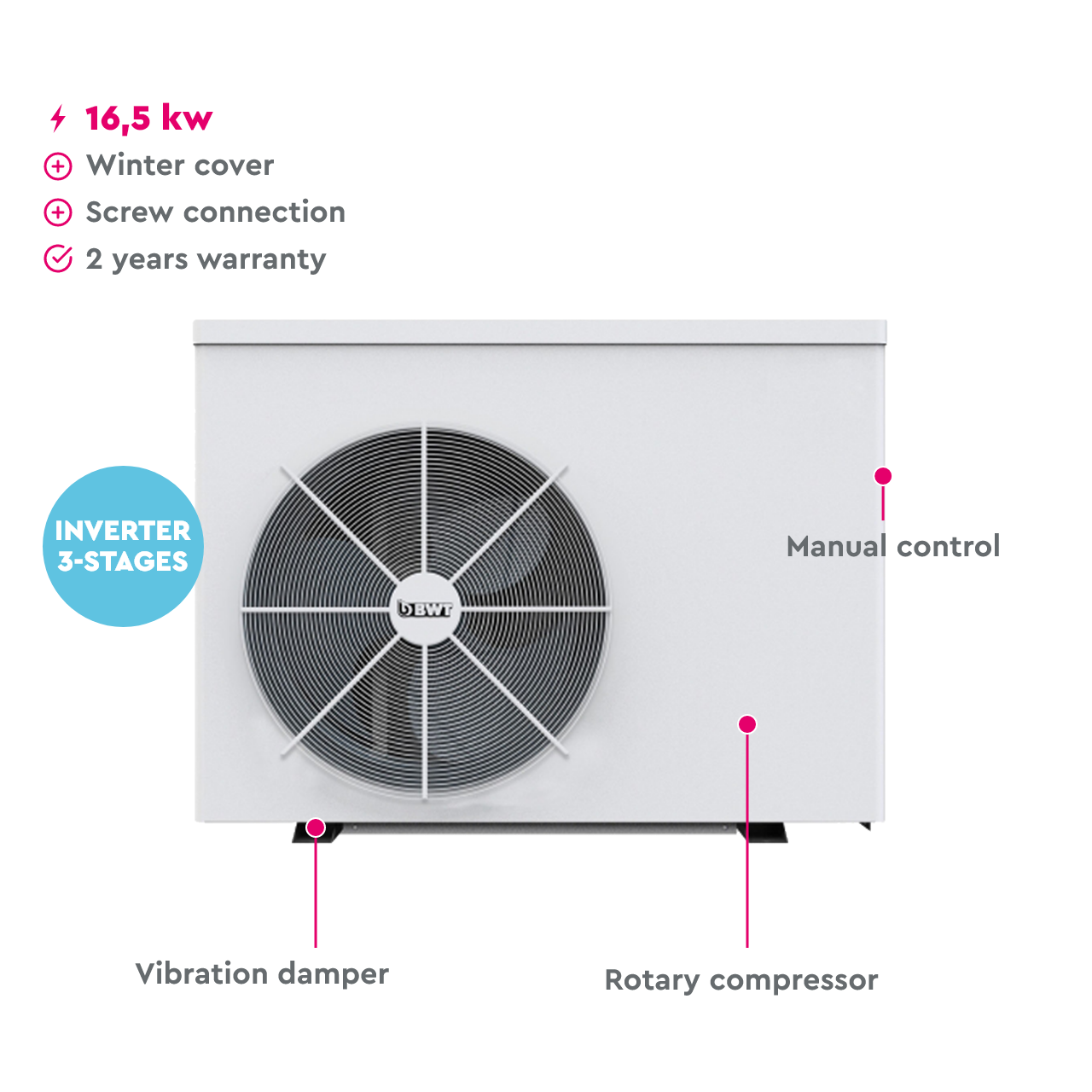 BWT myPOOL inverter heat pump 165
The durable pool heater is easy on your wallet and reduces energy consumption
This article is currently only available on request.
AUTOMATIC REGULATION: The heating system regulates itself automatically due to the inverter technology 
ESSENTIAL RESISTANCE: Resistant to common pool chemical products, can also be operated with salt electrolysis systems 
LOW POWER CONSUMPTION: Maximum efficiency and lowest possible power consumption due to EEV technology 
WARRANTY: 2 years
SCOPE OF DELIVERY: Inverter heat pump, winter cover bonnet, vibration dampers, screw fittings with transition to DA50 adhesive sleeve
BWT myPOOL inverter heat pump 165
€2,999.00 Prices incl. VAT
The BWT myPOOL inverter heat pump is an efficient and durable solution for heating your pool. With it, you can enjoy bathing in perfectly tempered pool water and also extend the bathing season.
INVERTER PRINCIPLE
Thanks to inverter technology, the BWT myPool heat pump can vary its output between 20% and 80% (depending on operating conditions and outside temperature) to carry out the optimum settings. It automatically measures and regulates to ensure the desired pool temperature.
ADVANTAGES
Long-lasting: The myPool Inverter heat pump is switched on and off much less frequently than a conventional heat pump. This not only protects the cooling system, but also enables a longer service life.
Quiet: Inverter heat pumps are significantly quieter than conventional heat pumps, as they can regulate the speed of the impeller and the compressor power down.
Efficient: The myPool Inverter heat pump automatically switches to energy-saving partial load when the full heating power is not required. This leads to significantly lower power consumption.
Uncomplicated installation: The pool heat pump is simply integrated into the existing filter circuit via a bypass system.
Special features
EEV technology: The gas flow in the heating system is precisely regulated by an integrated electronic expansion valve, which ensures maximum efficiency and the lowest possible power consumption.
Screw-shaped titanium heat exchanger:The titanium heat exchanger is resistant to all common pool chemical products and can also be operated with salt electrolysis systems.
Defrosting by means of circuit reversal: The integrated automatic defrosting enables operation even at very low outside temperatures.
Silver welding: The gas pipe system is welded with silver and thus designed for maximum tightness and long service life.
Welche Poolwärmepumpe ist die richtige für mich?
Die effizienteste Lösung für Ihren Pool zu finden ist jetzt ganz einfach: Gerne beraten wir Sie persönlich zu unseren Poolheizungen und helfen Ihnen, die für Sie passende Wärmepumpe zu finden!
Fordern Sie in nur wenigen Schritten ein schriftliches Angebot an oder vereinbaren Sie einen Termin zur persönlichen Online-Wärmepumpenberatung mit einem geschulten Mitarbeiter.
Mehr dazu erfahren: Zur Wärmepumpenberatung
Product features
Product number:
125252275
| | |
| --- | --- |
| App control: | No |
| COP at 20 % of nominal power (at 15 °C air and 26 °C water): | k. A. |
| COP at 20 % of nominal power (at 26 °C air and 26 °C water): | k. A. |
| COP at 100 % of nominal power (at 15 °C air and 26 °C water): | 6,0 |
| COP at 100 % of nominal power (at 26 °C air and 26 °C water): | 10,0 |
| Compressor: | GMCC Compressor |
| Connection: | 50 |
| Coolant: | R 32 |
| Dimensions in mm (w x h x d): | 954 x 648 x 349 mm |
| Heating capacity in kW (15 °C air & 26 °C water): | 12 |
| Heating capacity in kW (26 °C air & 26 °C water): | 16.5 |
| Housing: | Metal housing with plastic coating |
| Inverter technology: | Yes |
| Max. Power consumption (A): | 11.7 |
| Modes: | Smart and Silence |
| Operating temperature: | 0 - 43 °C |
| Recommended swimming pool volume: | 35 - 70 m³ |
| Type of heat exchanger: | Titanium spiral tubes in PVC housing |
| Weight: | 60 kg |
Top-class products, great service
Professional services for you in our online shop