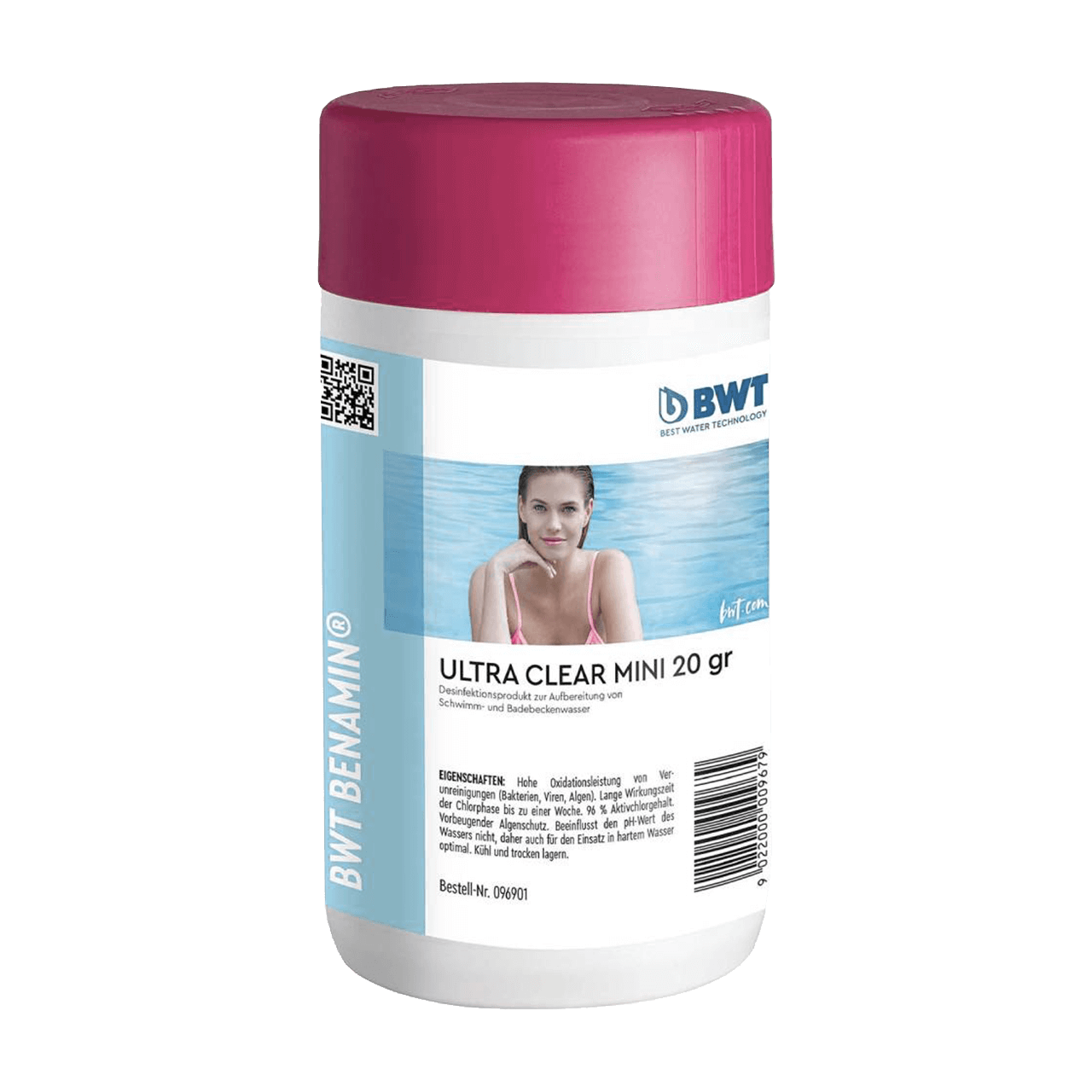 BWT Benamin Ultra Clear Mini
Disinfection product for reprocessing
This article is currently only available on request.
Multifunctional chlorine tablet á 20 gr
Chlorine stabilisation
Long-term disinfection
Algae prevention
The innovative swimming pool care BWT Benamin Ultra Clear Mini is ideal for all whirlpool and above ground pool owners who want to enjoy carefree hours in the water. For 3 m³ of pool water, one tablet of BENAMIN® Ultra Clear Mini lasts about a week. The super formula of BWT BENAMIN® Ultra Clear Mini guarantees crystal-clear whirlpool & pool water with extremely reduced chlorine use and significantly less chlorine odour. The ideal water care for pools/whirlpools up to 15 m³.
*The duration of effect depends on the bathing volume and the pump running times.
Hazard warnings

Use biocidal products carefully.
Always read the label and product information before use.


Attention! Observe danger and warning notes! Keep out of reach of children!


H302 Harmful if swallowed

H319 Causes severe eye irritation

H335 May irritate the respiratory tract

H410 Very toxic to aquatic organisms with long lasting effects

EUH031 In contact with acid, emits toxic gases
According to EC directives GefStoffV

Active chlorine content:

94,5 %

Algal prevention (starch):

Yes (++)

Chlorine stabilisation:

Yes

Container size:

1 kg

Depot effect:

Up to 10 days

Dosage:

1 tablet per 3-5 m³

Filtermaterial:

All

Flocculation (strength):

No

Poolsize in m³:

0 - 10

Pool type:

Above ground pool

, Pistoche

, Whirlpool

Pool water condition:

Pool algae

Skimmer:

Yes

Solubility:

Slow

Tablet size:

20 g tablet

Treatment method:

Multifunction disinfection

pH-Neutral:

Yes
Yes, the BWT Benamin Ultra Clear can be used with all filter types.
In the pH range from 7.0 to 7.4, BENAMIN Ultra Clear unfolds its greatest effect, especially in the algicide range.
Yes, you should check your pool water at regular intervals (at least once a week) even when using a multifunctional product such as the BENAMIN Ultra Clear MINI. Our digital pool tester 5 in 1 or the BWT ICO Station as a smart pool tester can support you in this.
Yes, due to its special composition, the BWT Benamin Ultra Clear MINI still develops its full disinfection performance even at very high water temperatures (over 30 degrees Celsius).
The algicide content in BENAMIN Ultra Clear MINI prevents algae growth in your pool. This prevents unsightly green deposits in the form of green algae in your pool and pool water. All BWT Algicides are foam-free and therefore also suitable for counter-current systems. In the event of very heavy algae infestation of the pool with greenish water and deposits, shock chlorination should be carried out (with ongoing circulation) and then BWT Algicid used as a preventative measure.
Top-class products, great service
Professional services for you in our online shop