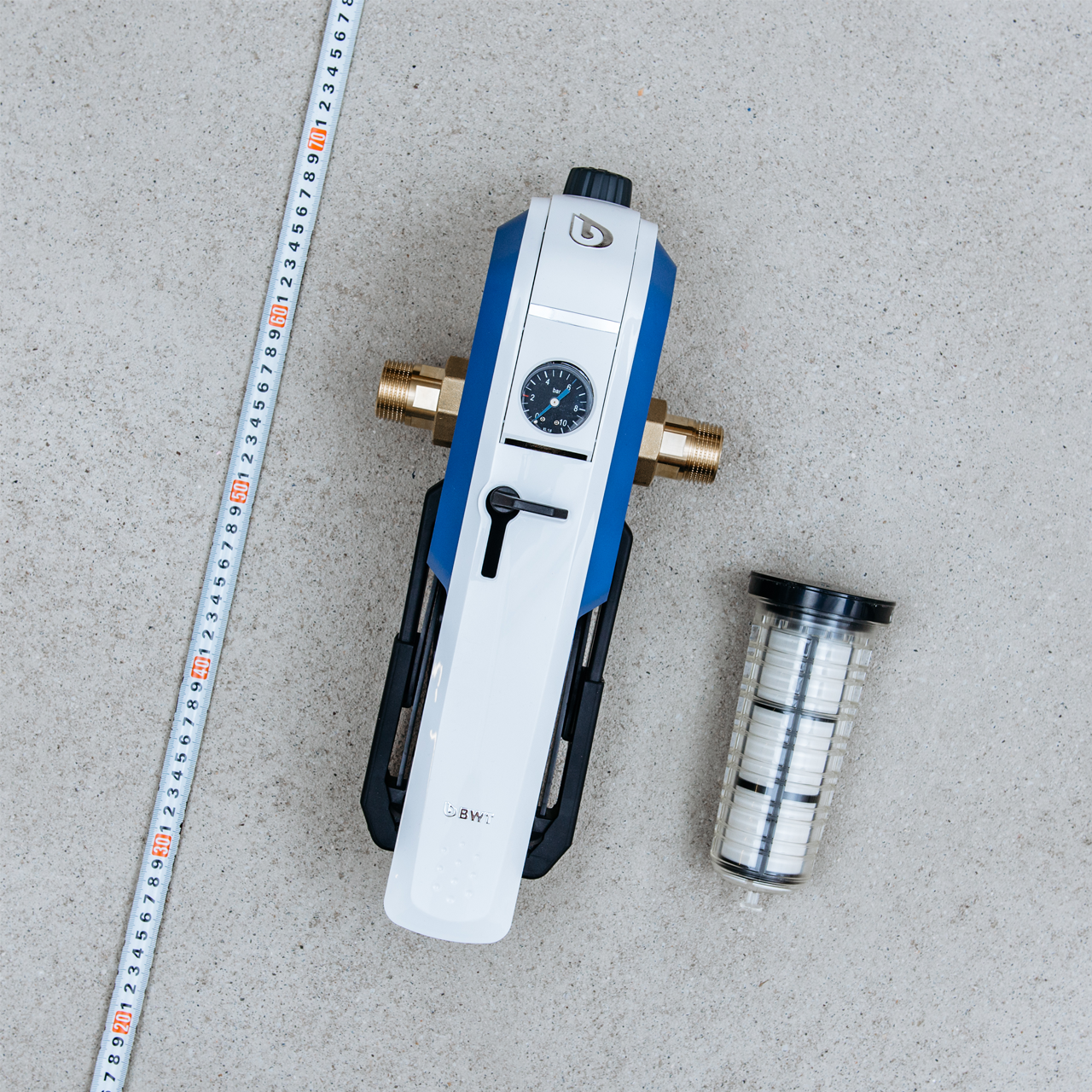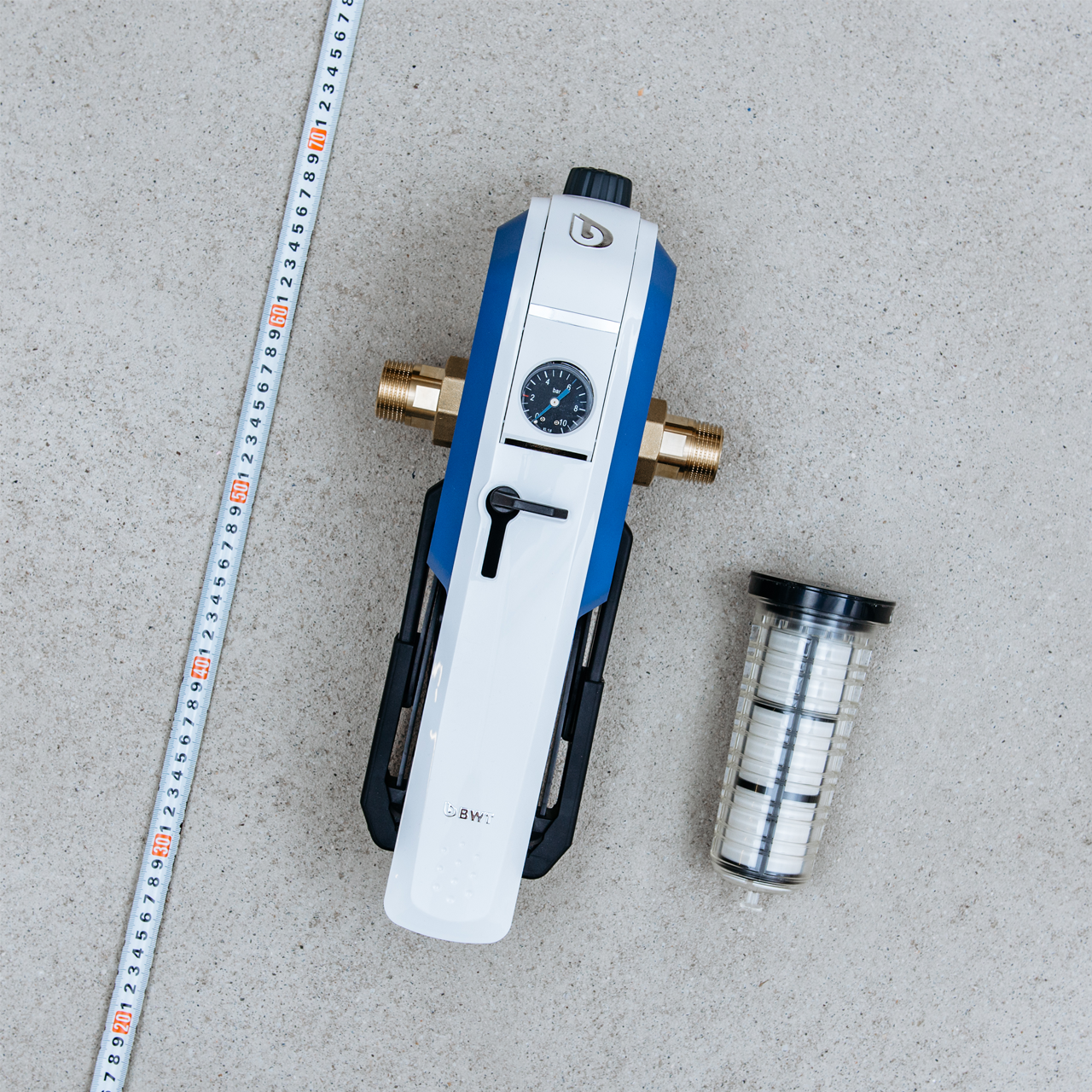 BWT E1 Single-Lever Filter HWS 3/4"
Domestic Water Station with a 10-year E1 guarantee
This article is currently only available on request.
House water station with integrated pressure reducer
Protects water-carrying devices from particles
Easy and quick change of filter element under 30 seconds
No touching of parts that come into contact with drinking water
10-year warranty (if registered)
There are many filters on the market - all variants are state of the art to keep particles such as rust particles and sand grains away from the domestic installation. The installation of a filter in every domestic installation is even mandatory according to the relevant standards. But installation alone is only half the battle, because all filters unfortunately have one thing in common: the filter elements are not regularly backwashed or changed because it is often too complicated. And that is a big problem for the hygiene of drinking water pipes.
BWT has developed an ingenious solution for this: The BWT E1 single-lever filter - a protective filter with innovative comfort and hygiene benefits. Replacing the hygiene vault (this is the filter cup with the filter element) is so easy that the consumer can do it himself in just a few seconds.
Unlock the safety catch and thus simultaneously shut off the water
Pull up the lever and thus automatically eject the hygiene safe
Insert the new hygiene safe. Close the lever. Lock. Done!
And all this in less than 30 seconds.
In this way, BWT has defused the hygiene risks of conventional filters, water-affected parts are no longer touched! In addition, the E1 also avoids splashing water when replacing the hygiene reservoir and the water pipe does not run empty.
The BWT E1 filter is available as
E1 HWS
(domestic water station) incl. Pressure reducer or as
E1 EHF
(single-lever filter) for applications without pressure reducer.
Secure 10 years warranty!
With the E1 filter, changing the filter unit will never be forgotten again: An e- mail notification indicates that the hygiene safe needs to be changed. When registered, this also automatically gives you the 10-year factory warranty on the E1 single-lever filter.
Highlights:
Easily change the filter unit - no tools, no dirt and no water splashing

automatic shut-off of the water with just one handle

no touching of water-impacted parts

produced following HACCP food standards. Filter element change reminder: conveniently via e-mail reminder service

DVGW-tested
| | |
| --- | --- |
| Dimension house water filter: | 398 mm |
| Fitting length with/without screw connection: | 100/197 |
| Mesh size filter: | 90 - 100 µm |
| Operating pressure min./max. bar: | 2/16 bar |
| Outlet pressure after pressure reducer: | 2 - 6 bar |
| Water temperature min./max.: | 5/30 °C |
The filter element of the E1 single-lever filter or a spin-on filter must be replaced every 6 months according to the standard. In the case of backwash filters, the filter should be cleaned every 2 months.
A question that we have to enter the realm of chemistry to answer. Lime is a substance that occurs in nature - in its most compact form as marble. The chemical name for it is CaCO3, which means calcium carbonate. You can find out more about lime in the "Worth knowing" section of our magazine;
Corrosion processes can cause heavy metals from the pipe material to enter the drinking water and pollute the water quality. These metals can lead to health problems, especially for vulnerable persons (infants, sick and elderly people).
This is why it is also recommended to let water run unused for some time in unprotected pipe systems - after a long period of stagnation (no water has been tapped for several days).
Your water suppliers guarantees that you get drinking water delivered to your home. The strict principles for this quality are laid down in the Drinking Water Ordinance. However, this also clearly states that every domestic installation must comply with these important principles. In the domestic water network, this quality can be lost due to heating, different materials, and - problems such as calcification and corrosion are the result. The responsibility for drinking water changes from the supplier to the homeowner at the water meter. Thus, the "operator of a drinking water system" is responsible for the perfect quality of the water at the taps.
Read our magazine article in the "Things to know" section to find out what a water filter is and what benefits it brings.
Top-class products, great service
Professional services for you in our online shop