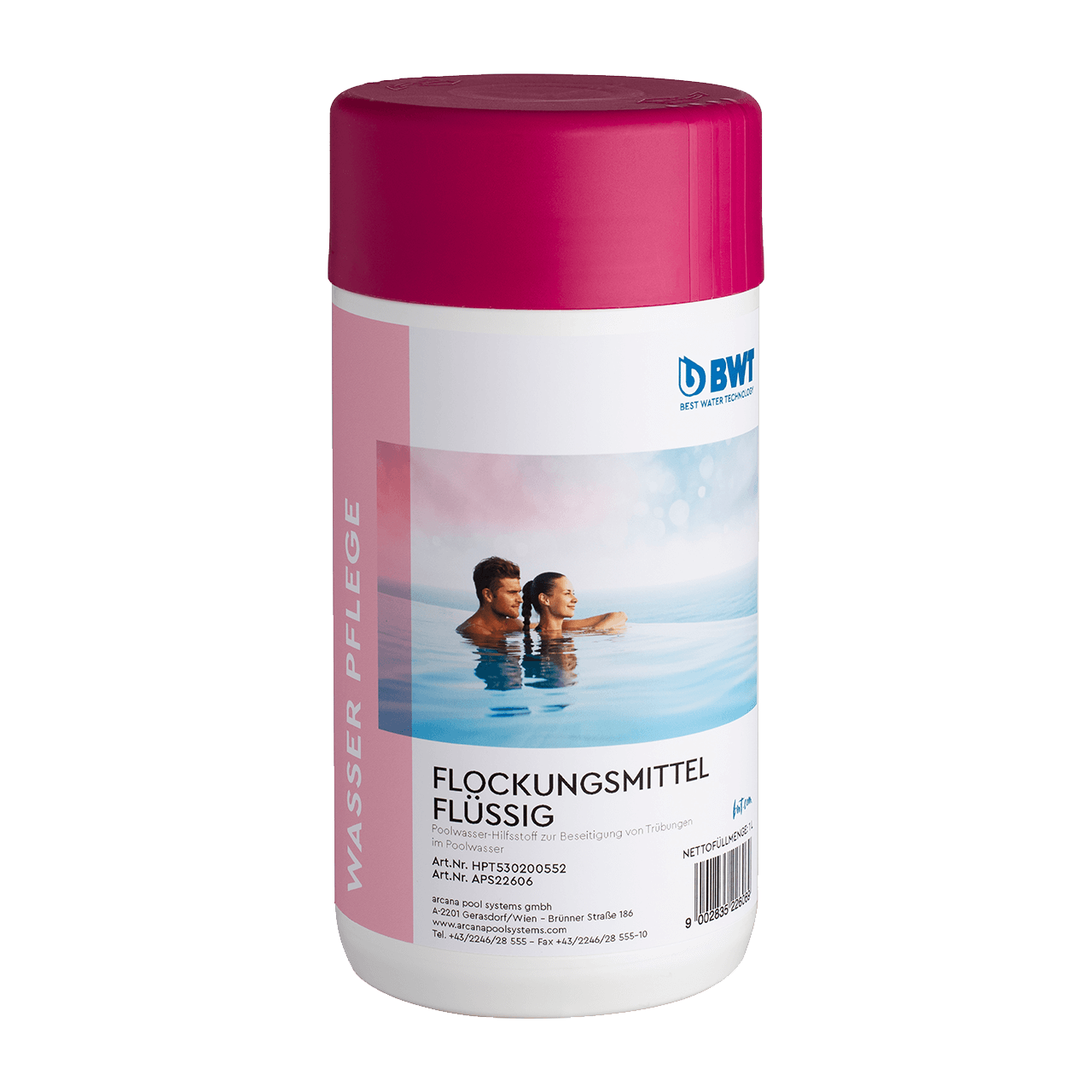 BWT flocculant liquid 1 L
Liquid turbidity remover for sand filter systems
This article is currently only available on request.
Contains lanthanum, which removes the finest suspended particles, phosphates and copper

High protection against algae

Binds the smallest fine dirt particles for better water quality
The optimum for a hygienically clear and clean pool
BWT flocculant liquid 1 L
€9.90 Prices incl. VAT
BWT flocculant liquid binds the finest suspended matter from the pool water and improves the filter performance. As a result, contaminants are filtered out of the pool water more quickly and can be better removed from the pool via the backwash. The product is not suitable for cartridge filters.
Application
The pH value of the pool water must be between 7.0-7.4 to guarantee optimum effectiveness. BWT flocculant liquid can be added directly in the skimmer, with the circulation running. For 10m³ of pool water, about 100-200ml (depending on bathing volume and load) are added to the pool water. Then stop the circulation for 10-15 minutes to give the flocs enough time to form. Switch on the circulation pump again and filter the turbidity out of the pool and then remove it from the water circuit with a backwash. If turbidity or particles are still present, repeat the process.
Filtermaterial:

Sand / glas

Poolsize in m³:

0 - 15

Pool type:

Above ground pool

, Pistoche

, Whirlpool

Pool water condition:

Brown Water

, Cloudy water

, Pool algae

Skimmer:

No

Treatment method:

Flocculation
Top-class products, great service
Professional services for you in our online shop