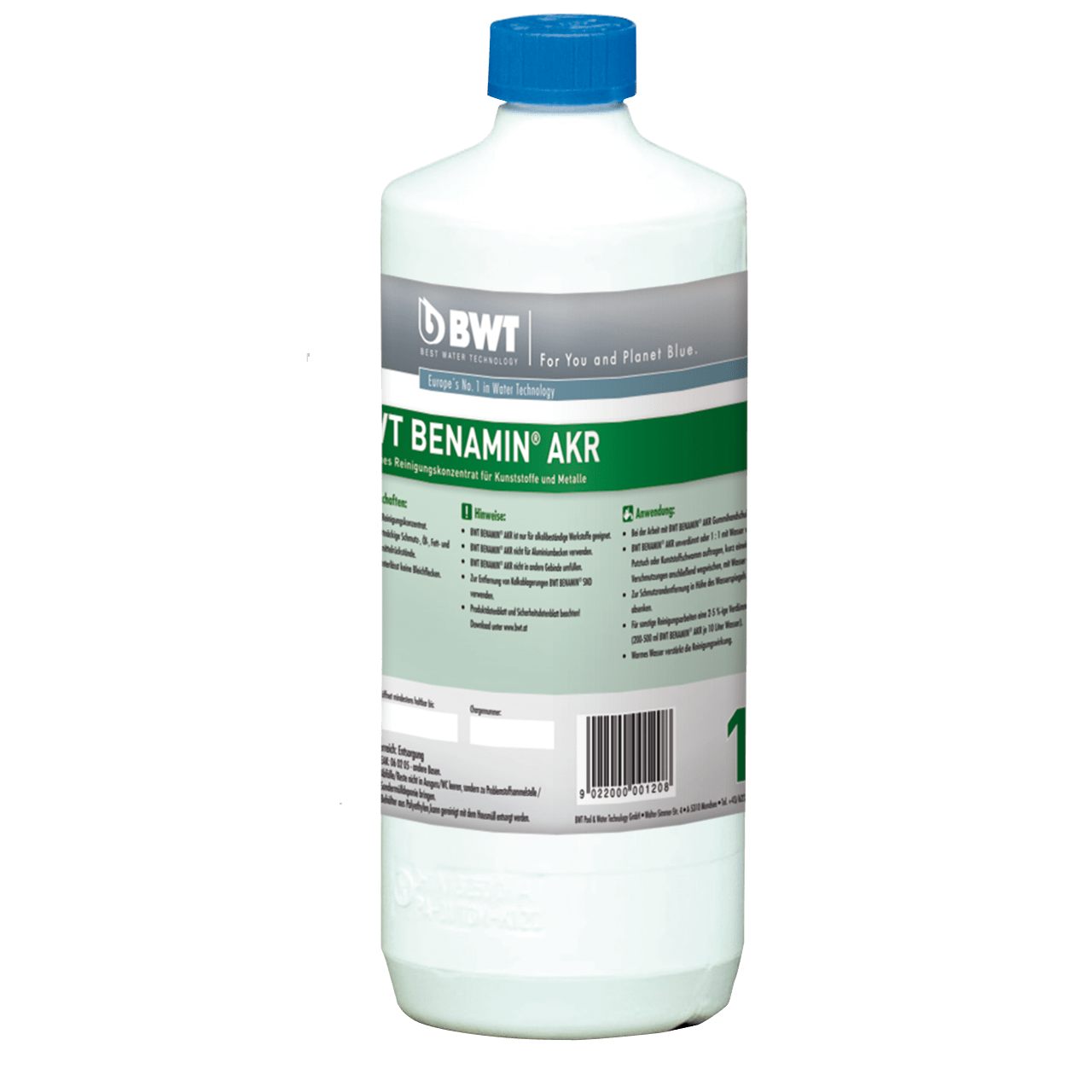 Benamin AKR
Cleaning concentrate for plastics and metals
This article is currently only available on request.
Alkaline, chlorine-free cleaning concentrate
Removes stubborn dirt from pool parts, fittings and tiles
Leaves no bleach stains
Biodegradable
Benamin AKR
€19.90 Prices incl. VAT
Alkaline special cleaning concentrate. Removes stubborn dirt such as oil, grease and skin care product residues from all surfaces. Ideal for pool cleaning and ongoing hygiene cleaning in the entire swimming pool, wellness and sanitary area. Reduces rust formation on metal parts. Biologically degradable.
Hazard warnings
Use biocidal products carefully.
Always read the label and product information before use.


Attention! Observe danger and warning notes! Keep out of reach of children!


H314 Causes severe skin burns and eye damage

Container size:

1 l

Filtermaterial:

x

Poolsize in m³:

35 - 60

Pool type:

Above ground pool large

, Pool

Pool water condition:

Pool algae

Skimmer:

x

Treatment method:

Cleaning / Winterizing
When used in swimming pools with a counter-current or massage system, the absolutely foam-free Algicid should be used. In fact, the problem occurs when third-party products are used - for cleaning, for example. Household and universal cleaners in particular contain foaming substances that enter the pool water quite automatically.
The filter pump should be able to circulate the entire pool contents twice a day. Our pool experts will be happy to help you here with expert advice.
To dose water care products correctly, it is important to know the exact amount of water (m³) in the pool. This can be calculated as follows:
Rectangular pool: length (m) x width (m) x average water depth (m) = pool capacity (m³)
Round pool: Diameter (m) x diameter (m) x average water depth (m) x 0.78 = pool capacity (m³)
Oval pool: Max. Length (m) x Width (m) x Average water depth (m) x 0.89 = Pool capacity (m³)
Octagonal or freeform pools: Max. Length (m) x max. width (m) x average water depth (m) x 0.85 = pool capacity (m³)
The flocculant was added too quickly or the reaction time (switch off the filter system for approx. 15 minutes) was not observed. Therefore, the flocculation only took place in the swimming pool. Remedy: Switch off the filter system, allow the flocs to settle and vacuum carefully.
Milky-cloudy water indicates lime precipitation due to a pH value that is too high (even if only once). Coloured turbidity is caused by organic impurities. A shock disinfection with chlorine or active oxygen after pH correction followed by flocculation makes the water clear again. For prevention, we recommend flocculation cartridges.
This is algae growth in an advanced stage. First, the parts of the pond with less flow (corners) are attacked. The colouring corresponds to the respective type of algae (e.g. green algae). The only thing that helps here is a shock disinfection with chlorine or active oxygen after the pH value has been adjusted.
Bad chlorine odours usually occur when there is too little free chlorine (less than 0.3 mg/l) in the water. This can be remedied by replenishing the fresh water and adding virtually soluble chlorine to a free chlorine level of 0.5mg/l.
With green water, always carry out shock chlorination. BWT AQA marin Algicid is a preventive product.
Top-class products, great service
Professional services for you in our online shop