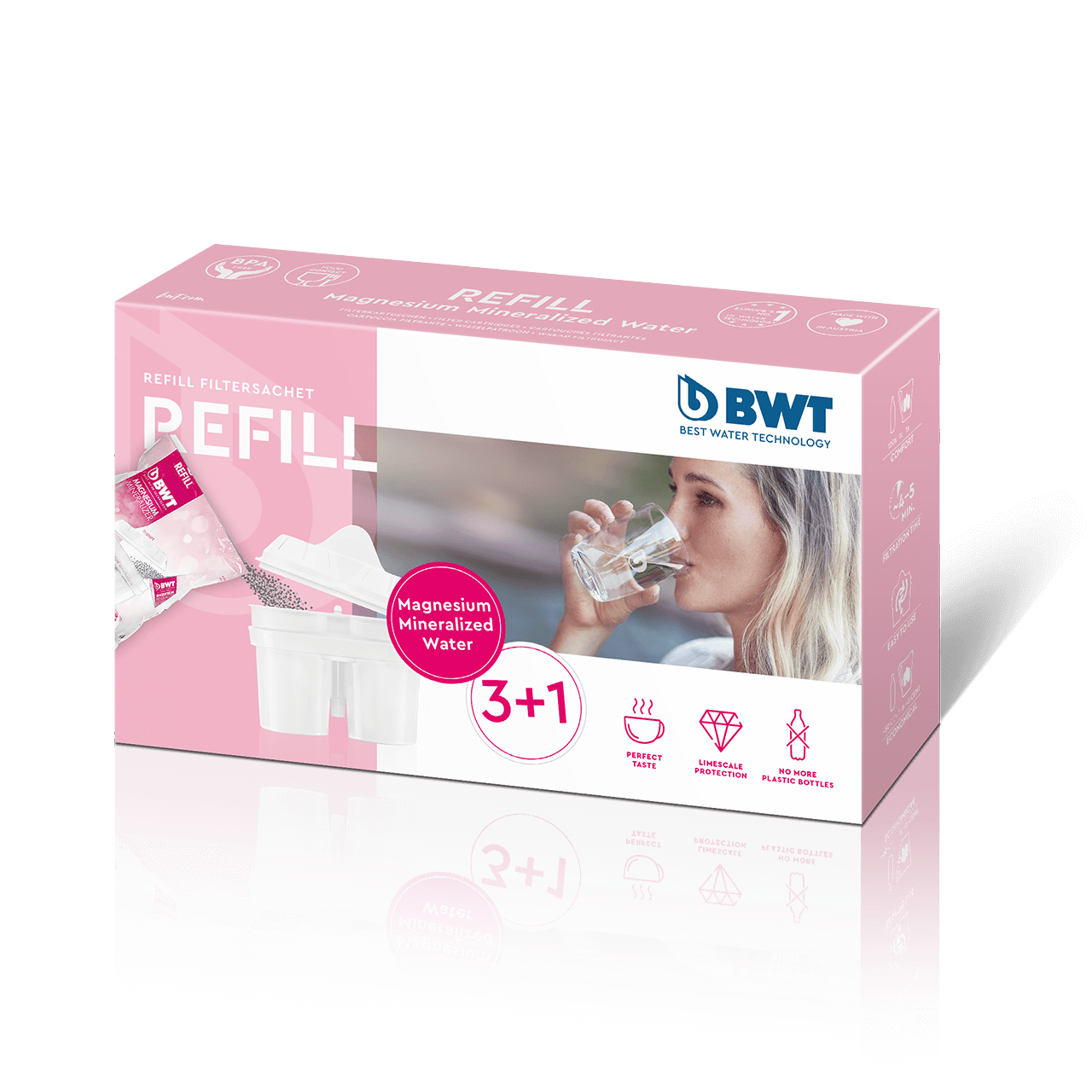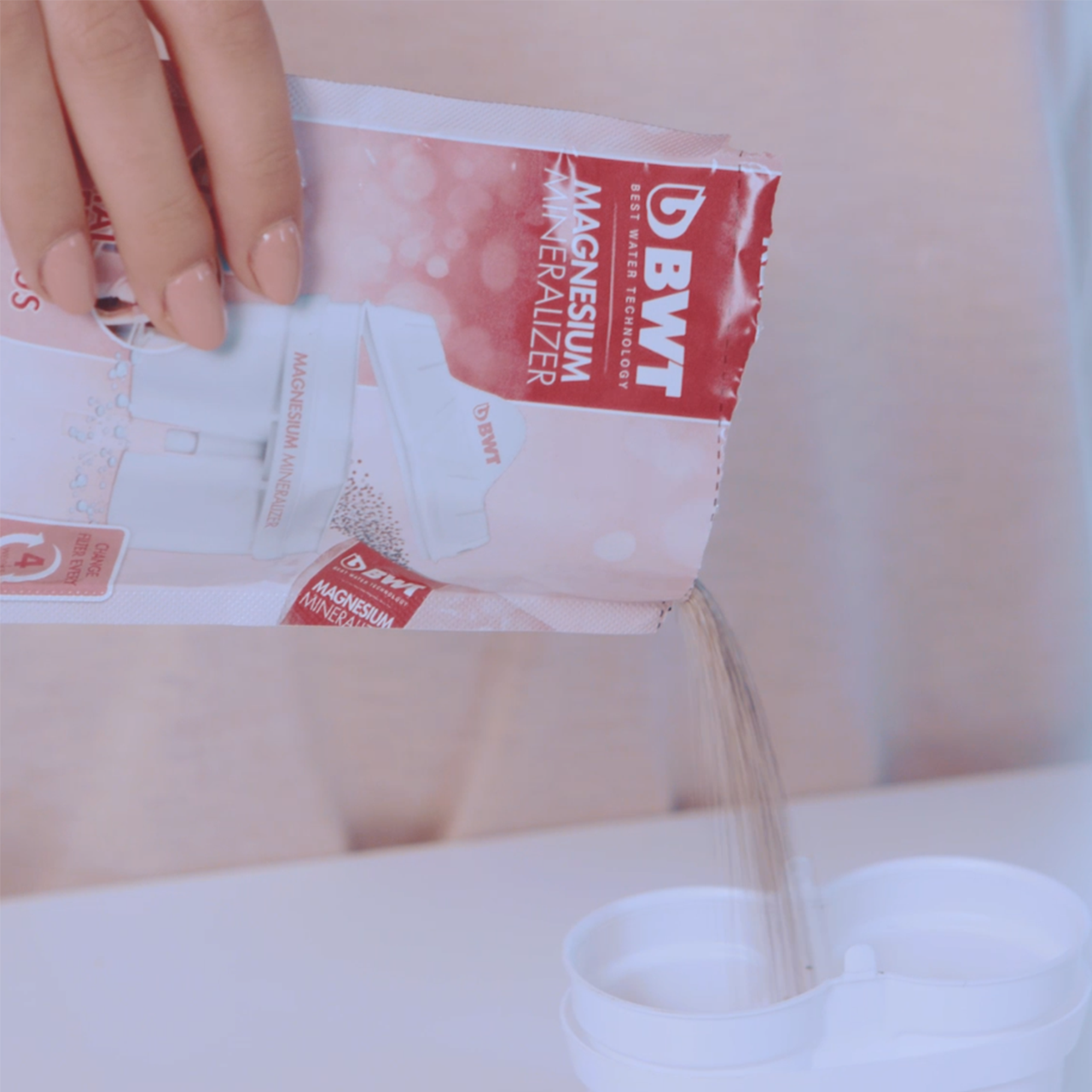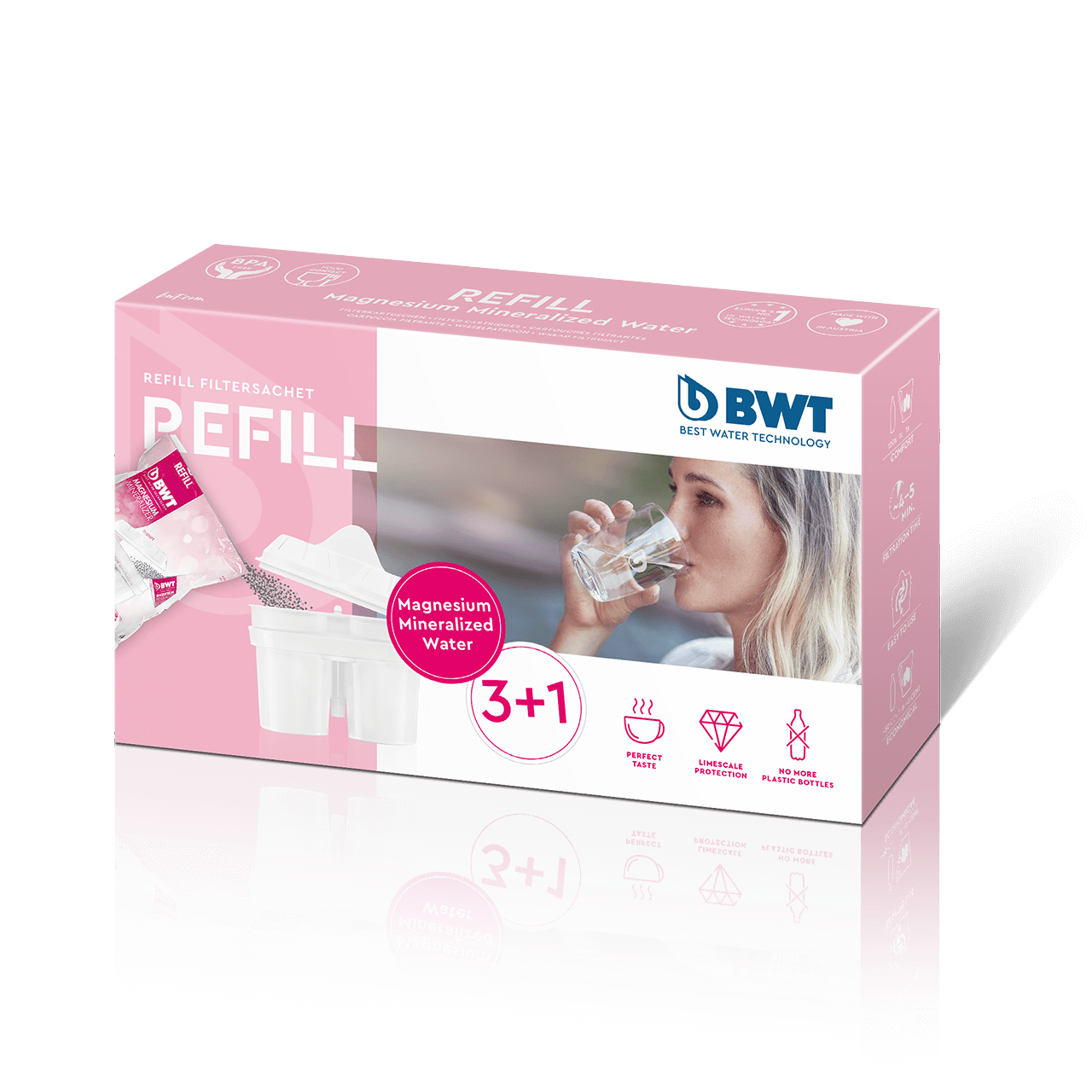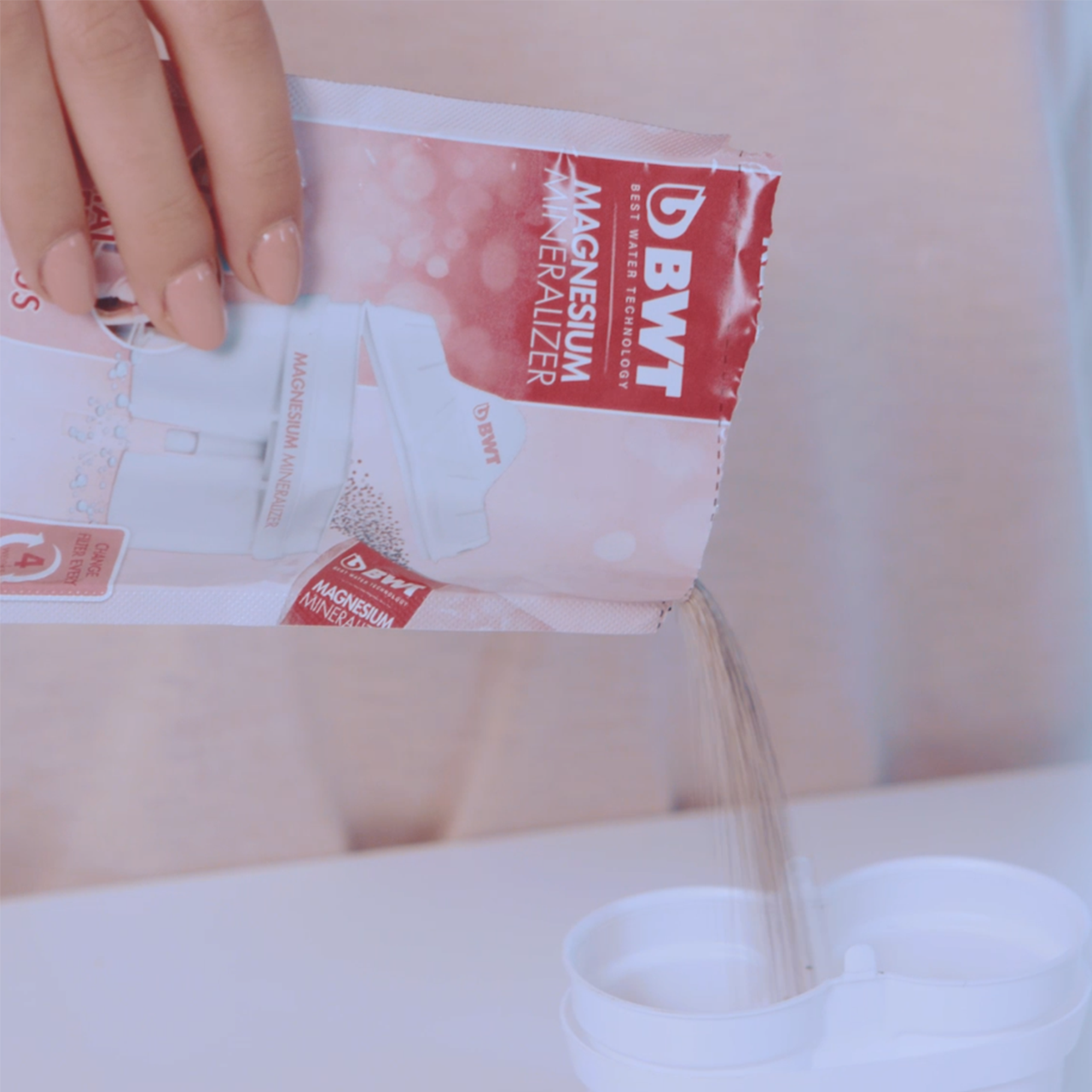 Magnesium Mineralized Water REFILL
The environmentally friendly refill packs for sustainable water drinking
Available, delivery time: 1-4 days
The shipping costs are € 10,- for international shipping.
Orders over € 200, - have free delivery, unless otherwise stated in the checkout. Delivery will be made within 3 - 4 business days after sending the order confirmation.
We want you to be completely satisfied with the purchase of your BWT product. If you are not, we will refund the full purchase price.
To do this, please let us know the reason for your dissatisfaction via the contact form and provide us with your contact details. For further processing, we will then contact you personally as soon as possible.
Pay conveniently with credit card, online banking, PayPal, Klarna, Apple Pay or other available payment methods.
Inform me when the product is available as a special offer.
Benefits of magnesium in drinking water:
Perfect taste in hot and cold drinks and food.
Supports themuscular and nervous system, strengthens bones and teeth.
Reduces fatigue, makes more resilient, stress-resistant and supports energy metabolism


Advantages of filter technology:
Environmentally friendly water drinking: Saving plastic waste thanks to practical refill packs
Optimal appliance protection for household appliances such as coffee machines and kettles: Reduces the limescale content of the water.
Reduces odour and taste-disturbing substances such as chlorine as well as organic impurities.
Reduces particles >200 μm (sand, particles from the tap) and heavy metals (lead and copper)
Magnesium Mineralized Water REFILL
€22.90 Prices incl. VAT
Refill instead of throwing away
With BWT REFILL technology, drinking water is now even more sustainableand environmentally friendly. With the 1+3 Refill Packs (1 filter cartridge + 3 refills), you can refill an exhausted filter cartridge with new filter granulate and easily save three times the plastic waste.
This way you make another important contribution to protecting our environment!
BWT water⁺ magnesium is the solution for a healthy lifestyle. With 2.5 litres*, you support your body in a simple and effective way and cover up to 20 % of your daily magnesium requirement. Quite simply without any effort, without swallowing tablets - just by drinking water.
Magnesium is a vital mineral and makes an essential contribution to our daily well-being.It supports the function of the muscle and nervous system and strengthens bones and teeth. If the body lacks magnesium, the nervous system gets out of balance and can lead to muscle tension. Magnesium supports energy metabolism to obtain energy from nutrients. With its calming, muscle-relaxing effect, it gives inner peace. It is also an energy carrier and helps to vreduce symptoms of fatigue. It makes the body more resilient and stress-resistant. In addition, magnesium is a flavour carrier and provides the best taste in cold and hot drinks as well as in food.
| | |
| --- | --- |
| Cartridge change interval: | 4 weeks |
| Chlorine reduction: | > 99 % |
| Filter capacity: | 120 l @ 15-18 °d TH |
| Heavy metal reduction: | > 95 % |
| Lead time: | 5 min |
| Limescale protection: | Yes |
| Magnesium release: | 25-30 mg/l |
| Reduction of organic substances: | Yes |
| Zinc release: | - |
| pH value filtered water: | 6,3-7,0 |
To achieve an optimal filter effect, you should replace the filter cartridge every four weeks at the latest.
If, however, the Easy-Control (model A) shows 100 fillings on the display before the four weeks have elapsed, the filter cartridge must be replaced before the four weeks have elapsed. This is indicated by a flashing filter cartridge on the display.
Remove the exhausted cartridge from the table water filter. Carefully apply pressure to the handle until the lid opens backwards.
Open the lid of the cartridge and empty S
the filter granulate. The used filter granulate can be disposed of with household waste. Please always observe local regulations for disposal.
Rinse the emptied filter cartridge with water.
Fill the granulate from the BWT REFILL Pack into the rinsed cartridge and close the lid.
Submerge the filled cartridge in water for 5 minutes. Now you can insert the cartridge into the table water filter.
It is best to store the filtered water in your refrigerator.
Our models fit ideally into most refrigerator doors on the market.
The filtered water should not be stored for more than 24 hours.
If the water should remain in the jug for longer than 24 hours, pour the water away and filter fresh water.
Magnesium is an essential mineral for humans that cannot be produced by the body itself. The daily requirement is about 300 mg (according to the German Nutrition Society), but can be even higher in special situations, such as stress. Magnesium not only supports our physical and mental performance and supplies our muscles, it is also an important flavour carrier. With BWT Magnesium Mineralized Water, you can support your personal magnesium balance.
Do not expose the jug or filter cartridge to direct sunlight.
Do not filter more than eight to ten litres of water per day.
Only use cold tap water that meets the legal requirements for drinking water. BWT table water filters are not suitable for preparing water of questionable origin into drinking water.
For people with reduced immune defences and for the preparation of baby food, we recommend additionally boiling the filtered water.
Do not use any abrasive cleaning agents to clean the filter parts.
If use is interrupted for a longer period of time, we recommend that you store the table water filter system including filter cartridge in the refrigerator.
If there is a break in use of more than two days - for example, due to a weekend - we recommend that you pour away the first filling and refill the table water filter.
If your table water filter is not used for a period of more than two weeks, you should replace the filter cartridge.
In the BWT table water filter system, the drinking water is filtered in four stages:
Stage 1: Particles are filtered out of the water.
Stage 2: Depending on which filter cartridge technology you have chosen, the water is treated accordingly:
Soft Filtered Water: Limescale and heavy metal content are reduced.
Soft Filtered Water Extra: Limescale and heavy metal content are increasingly reduced.
Magnesium Mineralised Water: Limescale and heavy metal content are reduced, calcium ions are replaced by magnesium ions.
Magnesium Mineralized Water + ZINC: Calcium and heavy metal content are reduced, calcium ions are replaced by magnesium ions and zinc is added to the water.
Balanced Alkalized Water: The heavy metal content is reduced and the pH value of the water is increased to >8.5.
Stage 3: Odour- and taste-disturbing substances such as chlorine and certain organic impurities are filtered out of the water.
Stage 4: Fine filtration is carried out.
The service life of the filter cartridge varies depending on the place of use, as the water is not the same everywhere. The capacity of the filter cartridge depends on the hardness of the water. The harder the water, the sooner the filter cartridge is exhausted.
Filter capacities:
Soft Filtered Water
120 L at KH* = 12 - 14 °d
Soft Filtered Water EXTRA
120 L at KH* = 15 - 18 °d
Magnesium Mineralized Water>
Magnesium Mineralized Water + Zinc
120 L at TH* = 15 - 18 °d
Balanced Alkalized Water
120 L
*KH = Carbonate Hardness, TH = Total Hardness
The substances indicated, e.g. lead and copper, which are reduced by the filter, are not present in all drinking water. The filter cartridges meet the microbiological requirements for water filters according to DIN 10521. The requirements according to DIN 10521 for chlorine, lead and copper retention are also met.
With the refill packs you can easily refill an empty, exhausted filter cartridge with filter granulate. This way, plastic waste can be avoided and a valuable contribution to environmental protection can be made.