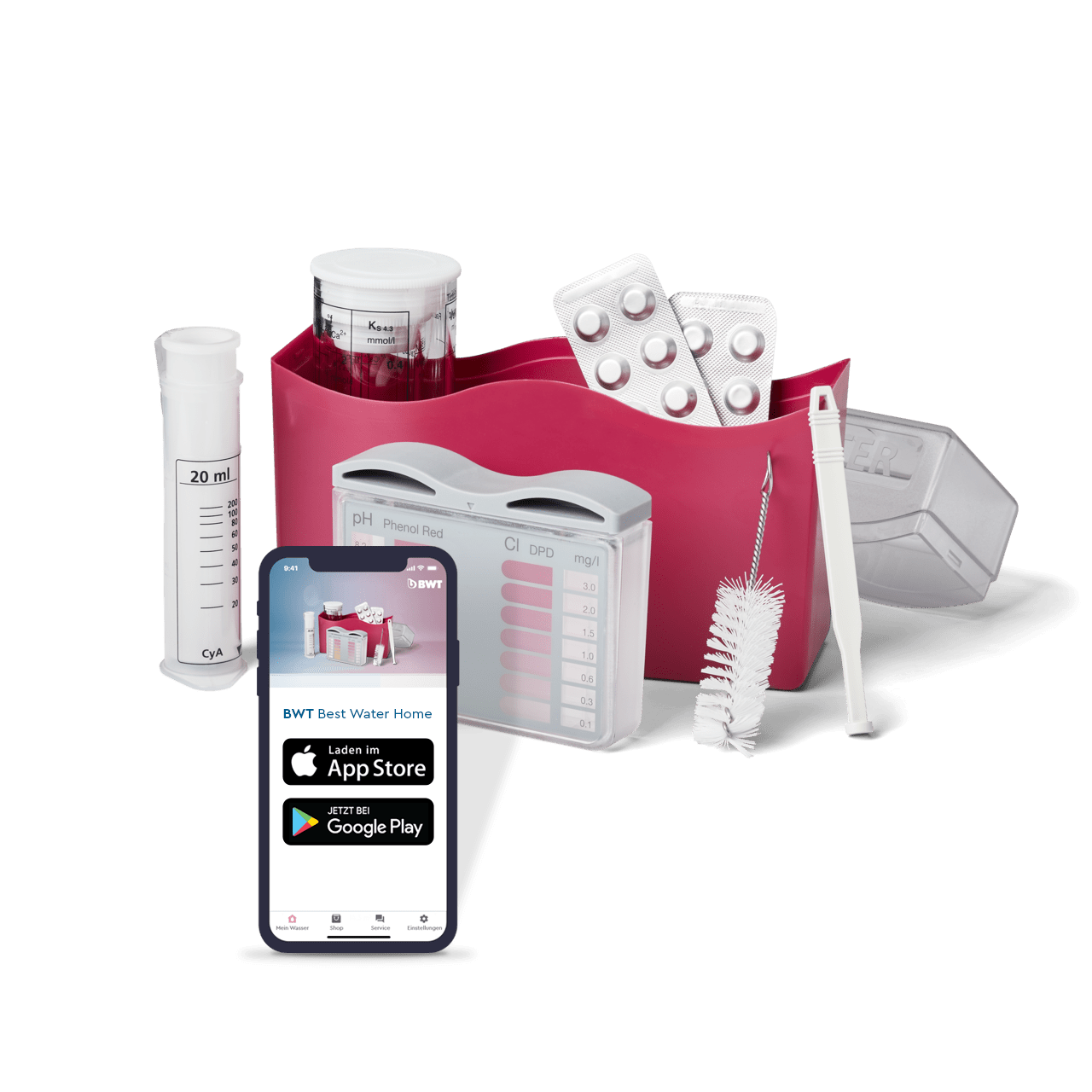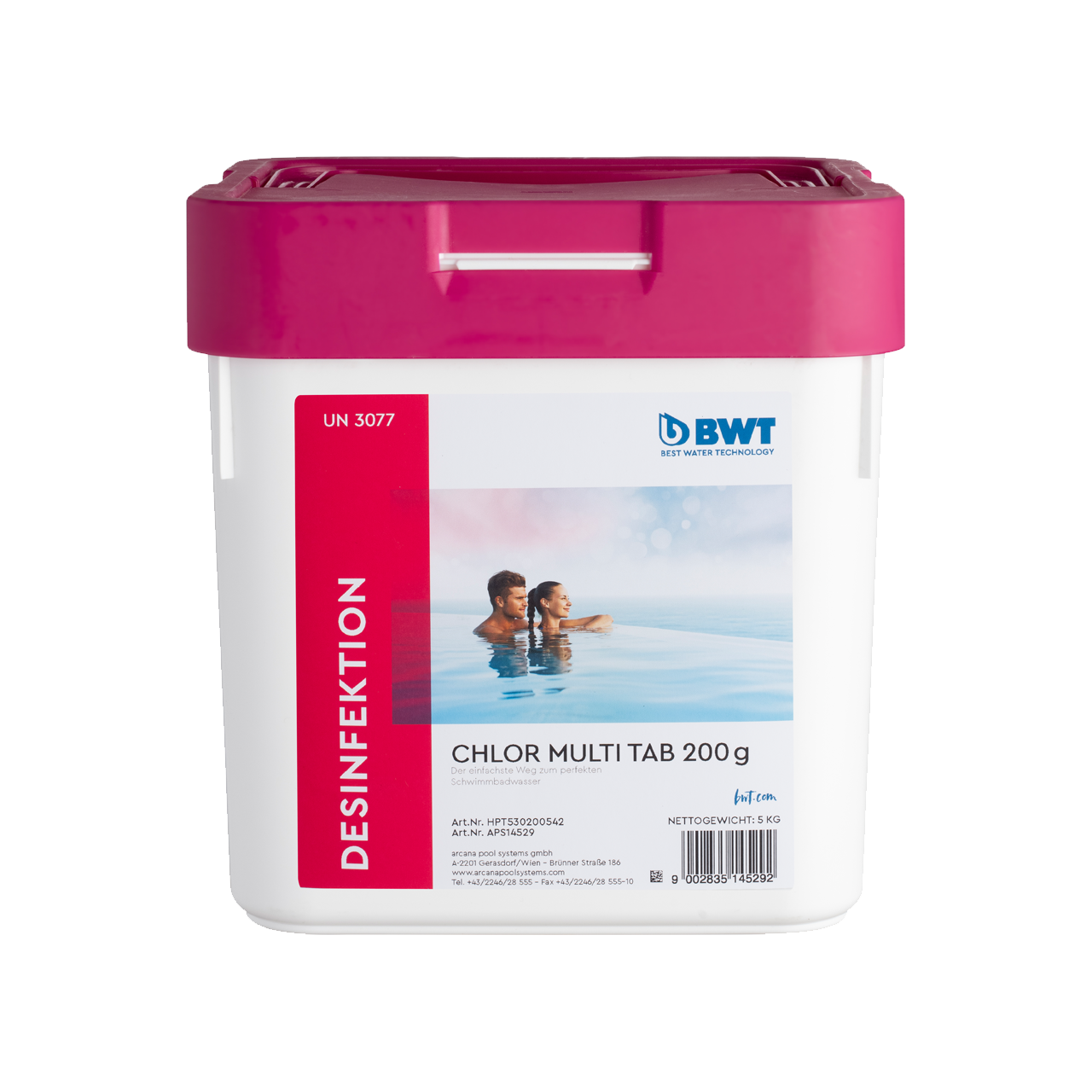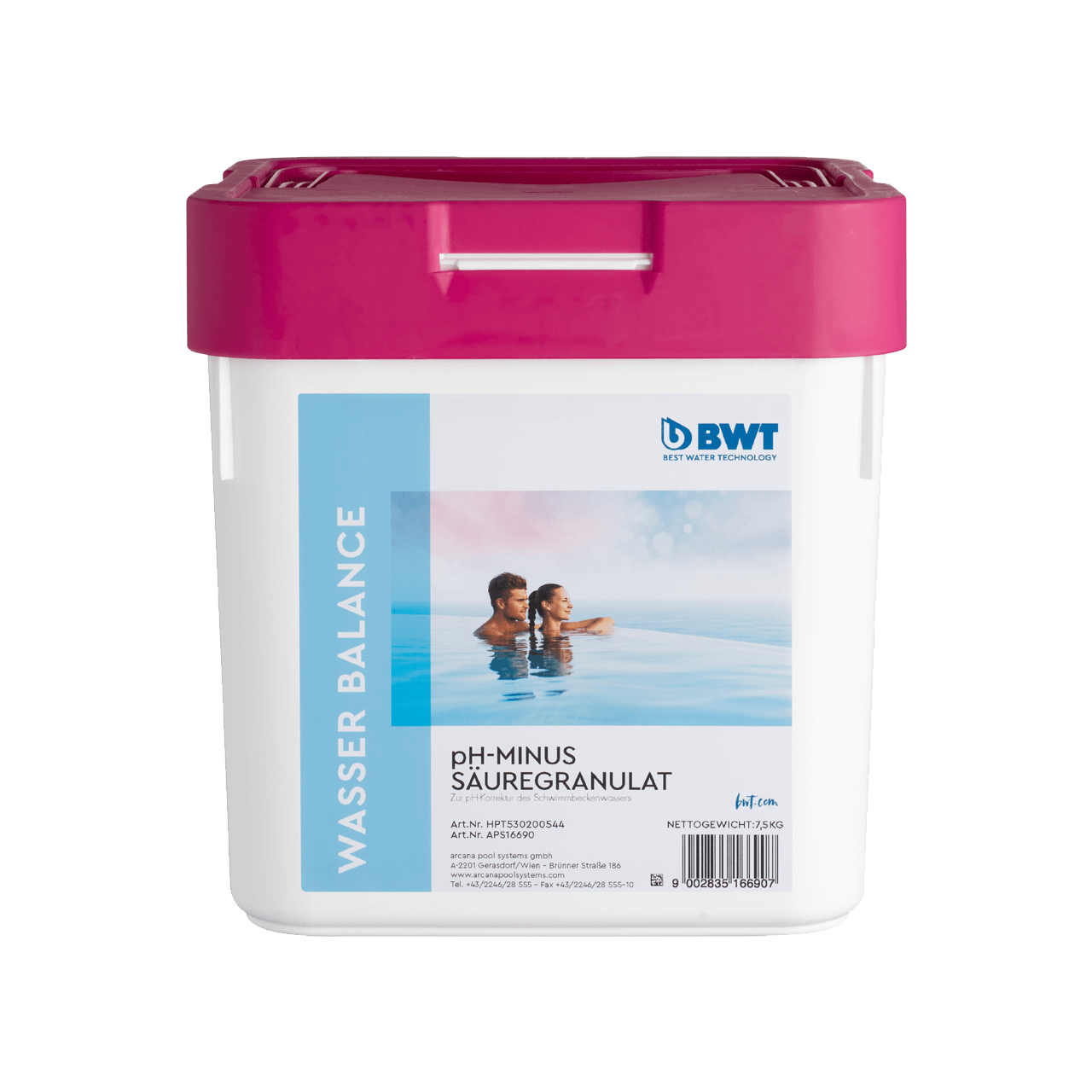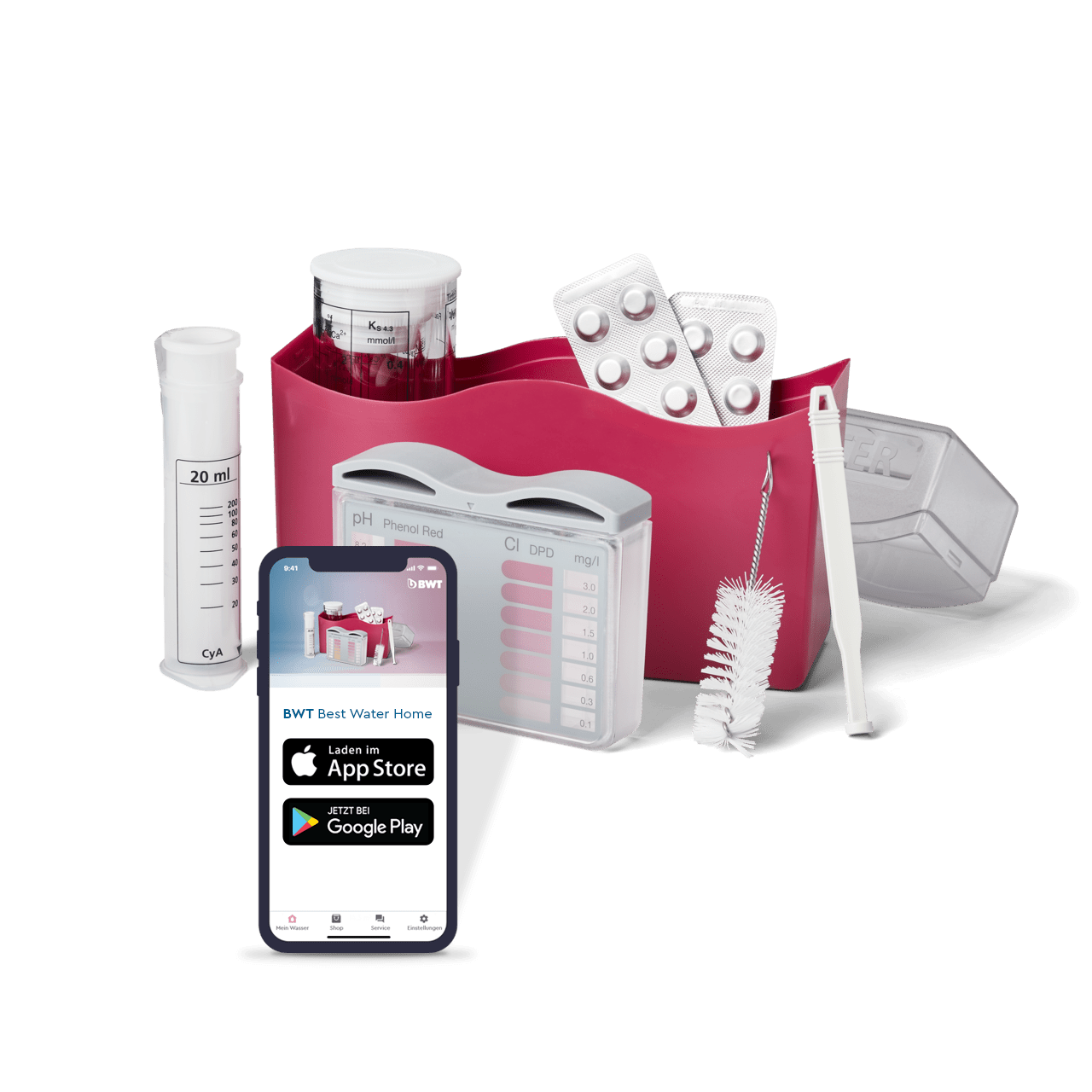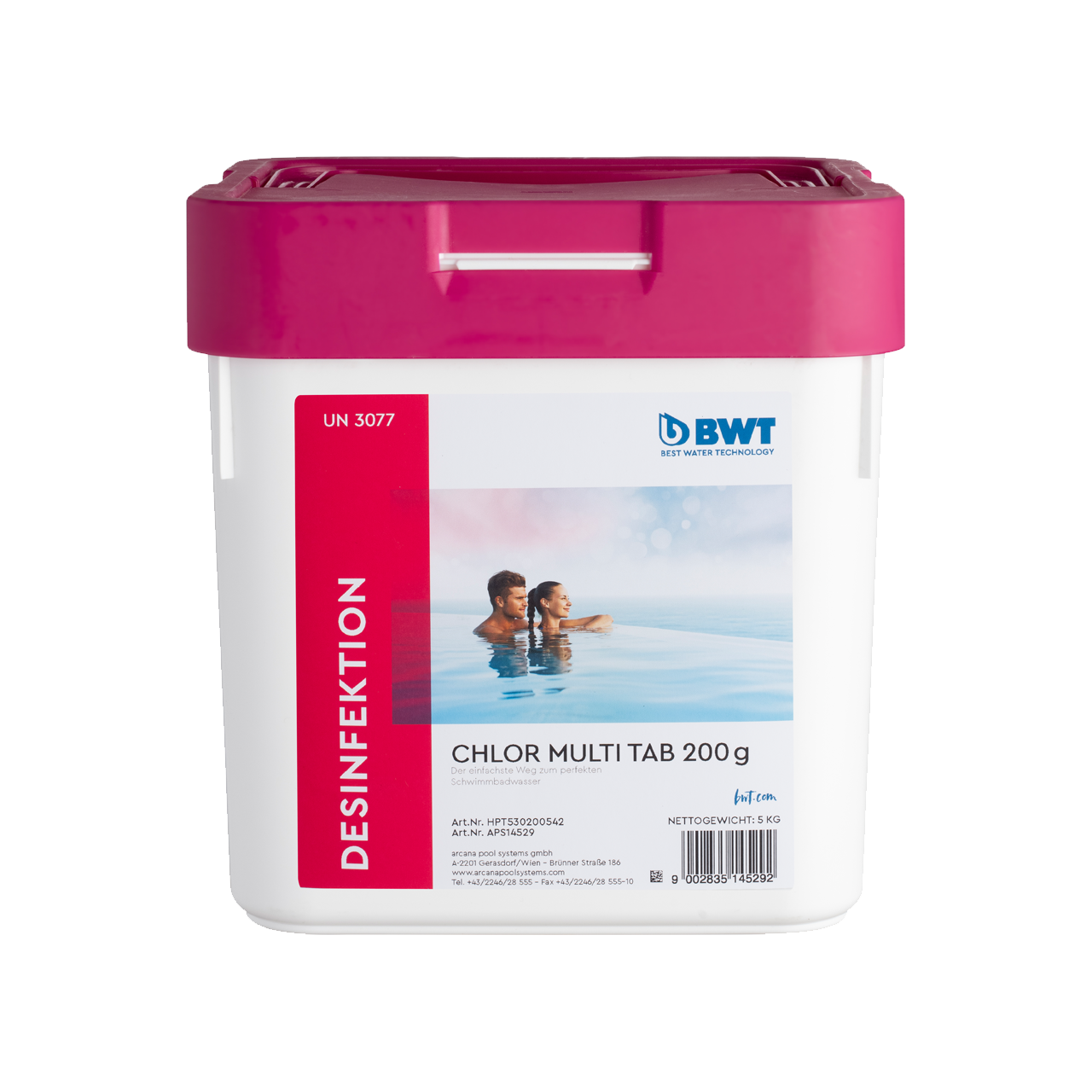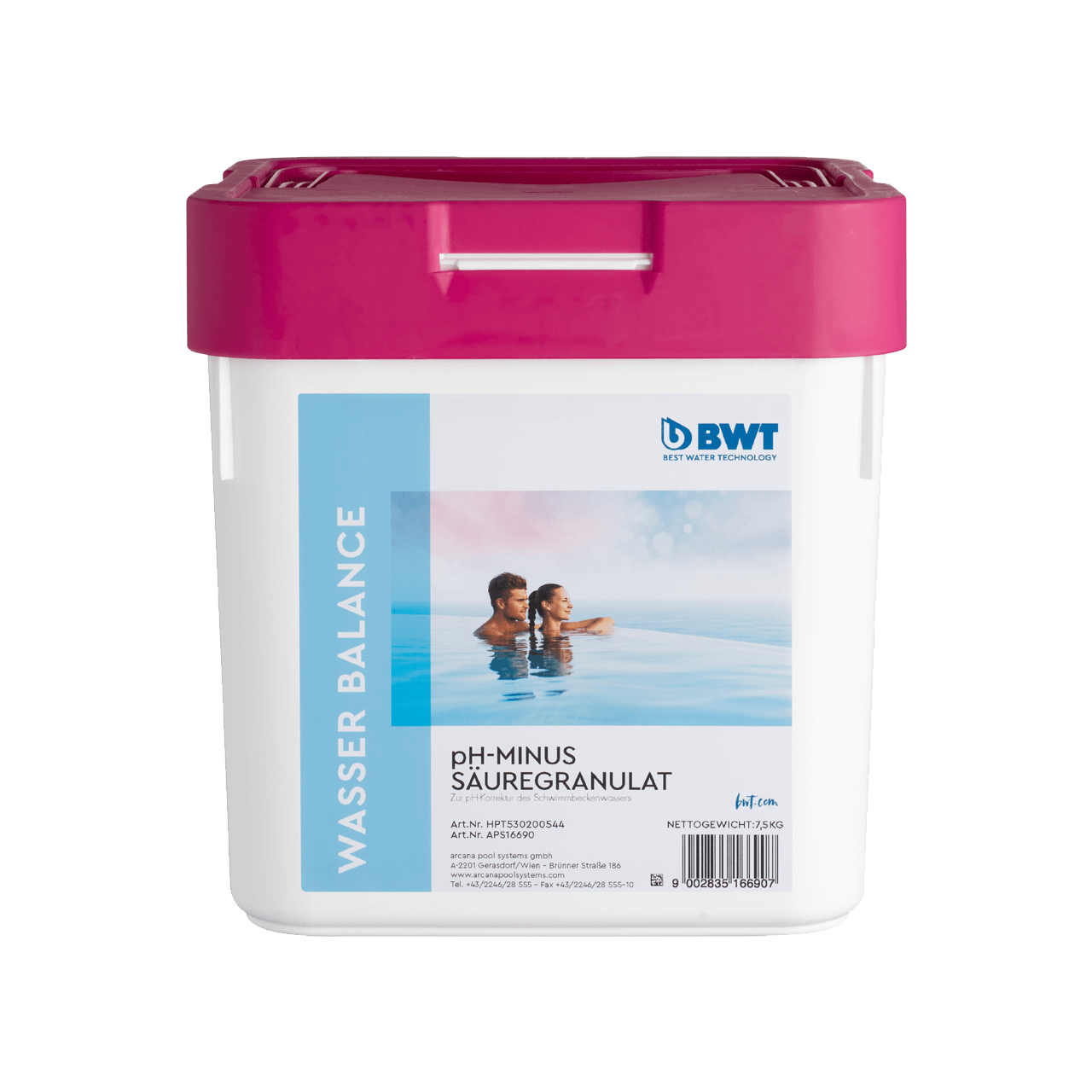 Pool maintenance for medium and large pools
Professional pool chemistry in a set
Available, delivery time: 2-4 days
The shipping costs are € 10,- for international shipping.
Orders over € 200, - have free delivery, unless otherwise stated in the checkout. Delivery will be made within 3 - 4 business days after sending the order confirmation.
We want you to be completely satisfied with the purchase of your BWT product. If you are not, we will refund the full purchase price.
To do this, please let us know the reason for your dissatisfaction via the contact form and provide us with your contact details. For further processing, we will then contact you personally as soon as possible.
Pay conveniently with credit card, online banking, PayPal, Klarna, Apple Pay or other available payment methods.
Perfectly coordinated pool chemistry for the start of the bathing season
BWT Aqa Marin Acid Granulate - quickly soluble, hydrochloric acid-free acid granulate for addition from a pH value greater than 7.4
BWT Algicid - highly concentrated and foam-free algicide ideal to prevent algae formation
BWT Chlor Multi-Tab - slowly soluble chlorine product with a very high active chlorine content of over 80 % for perfect water quality
Pool tester - Test kit for checking 5 parameters (active chlorine content, pH values, cyanuric acid, total alkalinity and calcium hardness)
Pool maintenance for medium and large pools
€129.90 Prices incl. VAT
Ideal package for medium-sized and large pools (30 m³ upwards) to start the swimming season without worries. The package contains all the important components of a professional pool chemistry to regulate the pH value and guarantee crystal-clear algae-free pool water for at least 2 months (at 30 m³)*. Enjoy a relaxed summer and let our BWT App help you determine your water values with the 5-in-1 pool tester. The different active ingredients complement each other perfectly and keep your pool water in a visually and hygienically perfect condition. Always follow all label instructions. Close BWT water care products securely and keep them away from children.
The pH value characterises the acidic or alkaline state of the water.
With either our digital BWT Pooltester 5in1 or the BWT ICO Station as a smart pool tester that sends you all the important water values, including dosing recommendations for pool chemicals, to your smartphone.
To dose water care products correctly, it is important to know the exact amount of water (m³) in the pool. This can be calculated as follows:
Rectangular pool: length (m) x width (m) x average water depth (m) = pool capacity (m³)
Round pool: Diameter (m) x diameter (m) x average water depth (m) x 0.78 = pool capacity (m³)
Oval pool: Max. Length (m) x Width (m) x Average water depth (m) x 0.89 = Pool capacity (m³)
Octagonal or freeform pools: Max. Length (m) x max. width (m) x average water depth (m) x 0.85 = pool capacity (m³)
No, each product is mixed separately and must also be added to the pool water separately.
Yes, this product is important for the first filling to prevent algae growth.
No, the tester is specially adapted to the BWT AQA marin test tablets.
Yes, basically all values are important to achieve a high water quality, as these values are often in interplay with each other.
This is algae growth in an advanced stage. First, the parts of the pond with less flow (corners) are attacked. The colouring corresponds to the respective type of algae (e.g. green algae). The only thing that helps here is a shock disinfection with chlorine or active oxygen after the pH value has been adjusted.
In normal temperatures we recommend checking the values once a week. In case of very warm temperatures and frequent use of the pool, the water values should be checked more often.
Bad chlorine odours usually occur when there is too little free chlorine (less than 0.3 mg/l) in the water. This can be remedied by replenishing the fresh water and adding virtually soluble chlorine to a free chlorine level of 0.5mg/l.
First, you should add BWT Water Care pH-Plus while the circulation is switched on (approximately the volume corresponding to the added pH-Minus) and check the pH value with our digital pool tester 5in1 or the BWT ICO Station as a smart pool tester until it is in the optimum range of 7.0 to 7.4.
As soon as the pH value moves upwards, the addition should be stopped and measured cyclically. Continuous circulation is very important to ensure even mixing of the pool water.
All functions except the chlorine measurement basically tell the data about the pool water.
Top-class products, great service
Professional services for you in our online shop