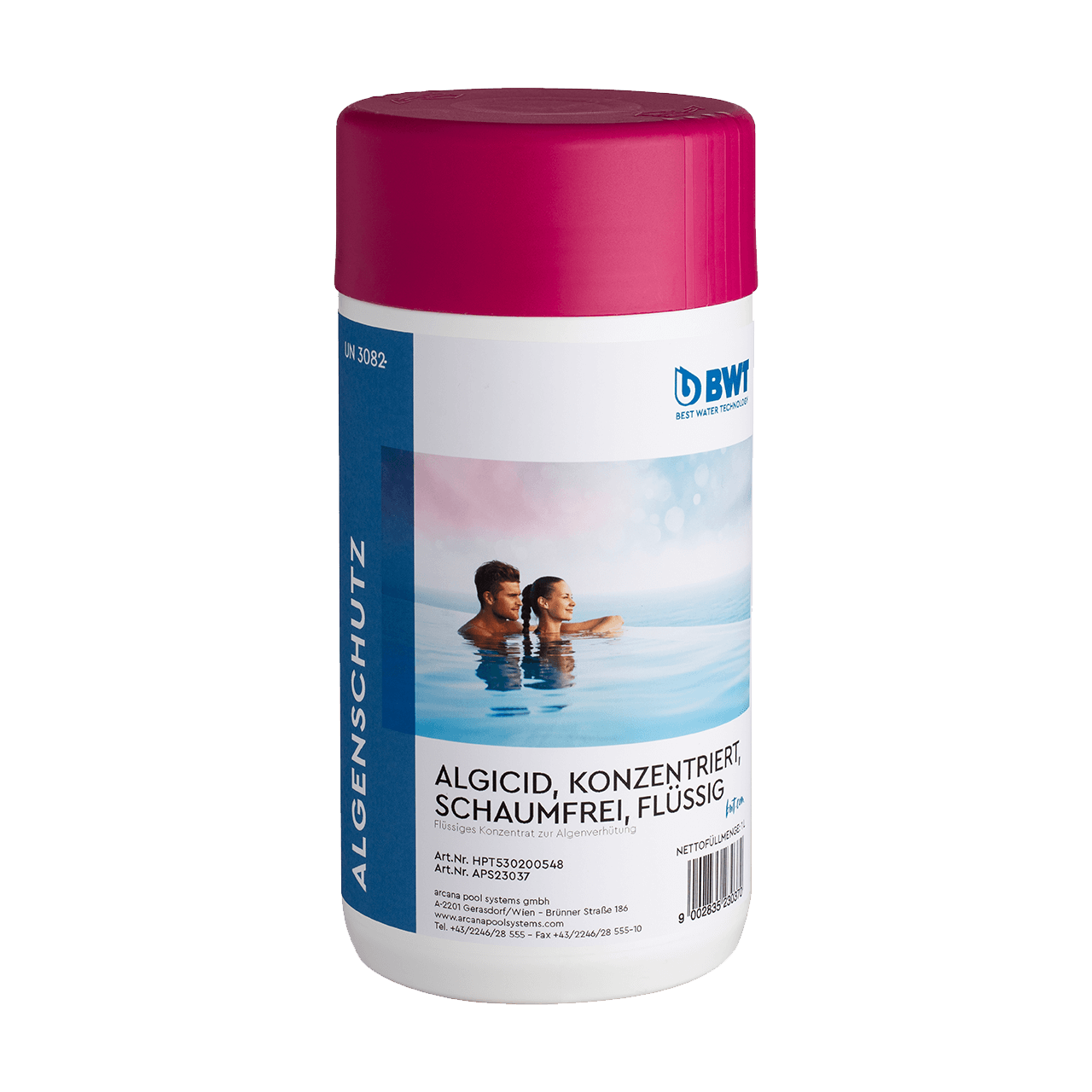 BWT Algicid 1 l
Concentrated, foam-free, liquid
This article is currently only available on request.
Foam-free product for algae prevention
Highly concentrated(18%), therefore less consumption
Compatible with all swimming pool care products in the pool water
In the application concentration odourless
The ideal product to prevent algae growth
No foam formation even when using counter-current systems
High-quality product for algae prevention, foam-free and in high concentration. Before filling the pool for the first time, the pool walls and the bottom should be treated with Algicid as a preventive measure. Add approx. 50-80 ml Algicid per 10 m³ to the filling water, then approx. 30-50 ml Algicid per 10 m³ pool water is recommended for subsequent dosing. Always follow all label instructions. Always close water care products securely and keep them away from children.
Hazard warnings
Use biocidal products carefully.
Always read the label and product information before use.


Attention! Observe danger and warning notes! Keep out of reach of children!


H410 Very toxic to aquatic organisms with long lasting effects

According to EC directives GefStoffV
Filtermaterial:

All

Poolsize in m³:

0 - 15

Pool type:

Above ground pool

, Pistoche

, Whirlpool

Pool water condition:

Pool algae

Skimmer:

No

Treatment method:

Algae prevention

, Initial filling
The algicide also only works perfectly when the pH value is optimal.
Yes. All AQA marin products with Algicid share or AQA marin Algicid are foam-free and suitable for counter-current systems.
Yes, this product is important for the first filling to prevent algae growth.
The AQA marin Algicid can be used with all AQA marin Chlorine products.
With green water, always carry out shock chlorination. BWT AQA marin Algicid is a preventive product.
Top-class products, great service
Professional services for you in our online shop