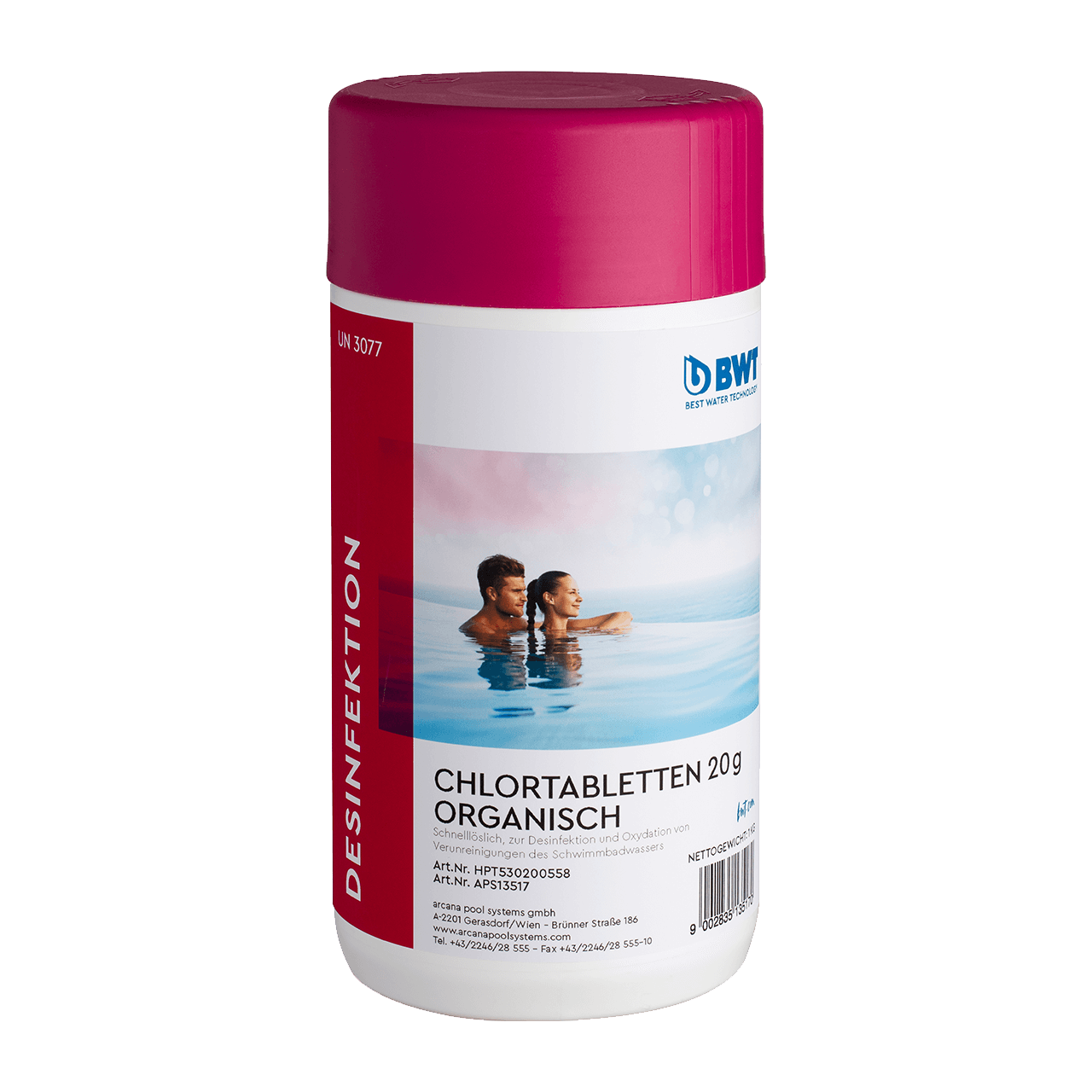 BWT Chlorine tablets (20 gr) organic 1 kg
For disinfection and oxidation of impurities in pool water
This article is currently only available on request.
Chlorine tablets 20 g fast dissolving
On an organic basis
Active chlorine content 56 %
Does not affect the pH value
Ideal for initial filling, shock chlorination and re-dosing
Suitable especially for use in hard pool water
High quality fast dissolving 20 gr chlorine tablets, organic based with an active chlorine content of 56 %. The product does not affect the pH value of the water and is also suitable for use in hard water. The 20 gr. chlorine tablets are ideal for initial filling, shock chlorination and re-dosing.
Hazard warnings

Use biocidal products carefully.
Always read the label and product information before use.


Attention! Observe danger and warning notes! Keep out of reach of children!


H302 Harmful if swallowed

H319 Causes severe eye irritation

H335 May irritate the respiratory tract

H410 Very toxic to aquatic organisms with long lasting effects

EUH031 In contact with acid, emits toxic gases
According to EC directives GefStoffV

| | |
| --- | --- |
| Active chlorine content: | 63 % |
| Algal prevention (starch): | no |
| Chlorine stabilisation: | Yes |
| Container size: | 3 kg |
| Depot effect: | 1-3 days |
| Dosage: | 10 m³ initial filling 5 tablets/subsequent dosing 1-2 tablets daily |
| Encore: | Dosing sluice/in pre-dissolved form/dosing float |
| Filter type: | applicable for all filter types |
| Flocculation (strength): | no |
| Pistol suitable: | yes |
| Pool type: | All types |
| Scope of application: | Chlorine |
| Solubility: | fast |
| Suitable pool size: | from 3 m³ |
| Tablet size: | 20 g tablet |
| Type of disinfection: | Initial chlorination (continuous disinfection possible with very small water volumes) |
| Use: | For initial filling or in case of water problems (shock chlorination possible) |
| Whirlpool suitable: | yes |
| pH-Neutral: | yes |
For sure, the pH value is far outside the ideal range. The problem is solved with the appropriate pH correction.
No. In general, the addition of BWT pool water care products should take place under circulation, offset in time and without bathing, so that each product can develop its best effect undisturbed.
The best way to measure the chlorine content is with the BWT AQA marin Pooltester 5 in 1 according to instructions
Bad chlorine odours usually occur when there is too little free chlorine (less than 0.3 mg/l) in the water. This can be remedied by replenishing the fresh water and adding virtually soluble chlorine to a free chlorine level of 0.5mg/l.
Top-class products, great service
Professional services for you in our online shop