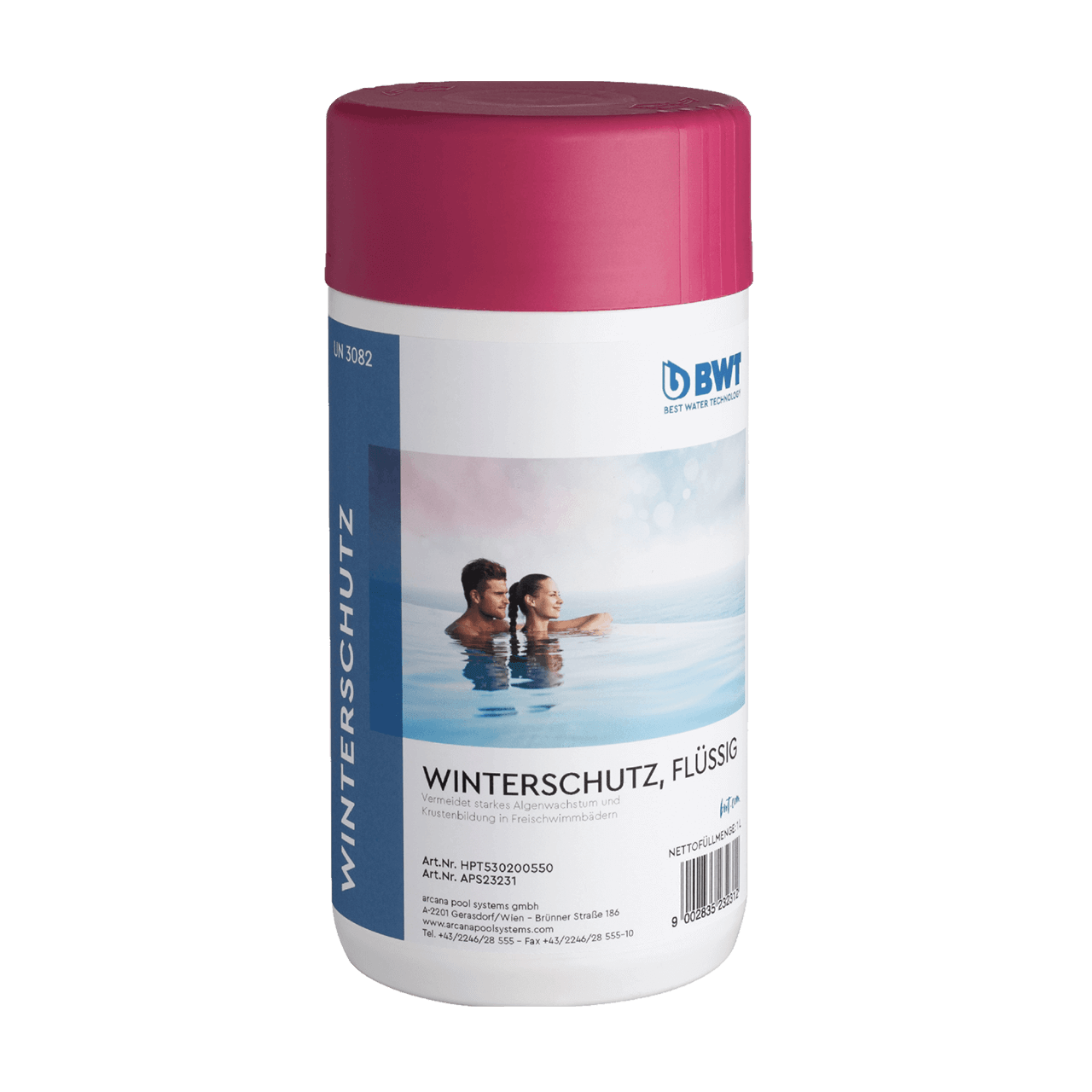 BWT Winter Protection 1 litre
Prevents strong algae growth
This article is currently only available on request.
OVERWINTERING: Agent to prevent sedimentation in the pool during the winter months.
PROTECTION: Prevents limescale and crust formation and inhibits algae growth in the pool when used in the appropriate dosage.
EASY CLEANING: Facilitates the cleaning of your pool in spring
The BWT winter protection ideally prepares the pool water for the winter season and prevents limescale and algae from settling. This means that the pool is quickly ready for use again in the new bathing season. By using BWT winter protection, you save unnecessary cleaning work in spring. Please follow the label instructions and always keep water care products safely closed and away from children.

Application
If the water temperature of the pool falls permanently below 15 °C, it is time to winterise the pool. The water should be lowered to below the built-in parts (keep a safety distance of approx. 10 cm to the inner built-in parts in case of ice formation). Then add BWT winter protection according to the package instructions. Please note: BWT Winterschutz is not an antifreeze and cannot prevent the formation of ice

Dosage
BWT recommends, depending on the water hardness, per 10 m³
0 - 6°dH➔ 400 ml
12dH➔ 500 ml
13-18°dH➔ 600 ml

Hazard warnings
Use biocidal products carefully.
Always read the label and product information before use.


Attention! Observe danger and warning notes! Keep out of reach of children!


H410 Very toxic to aquatic organisms with long lasting effects

According to EC directives GefStoffV
Container size:

1 l

Pool water condition:

Cloudy water

, Pool algae

Scope of application:

Wintering
Yes, the pool is freezing over. Wintercare is not antifreeze!
Top-class products, great service
Professional services for you in our online shop