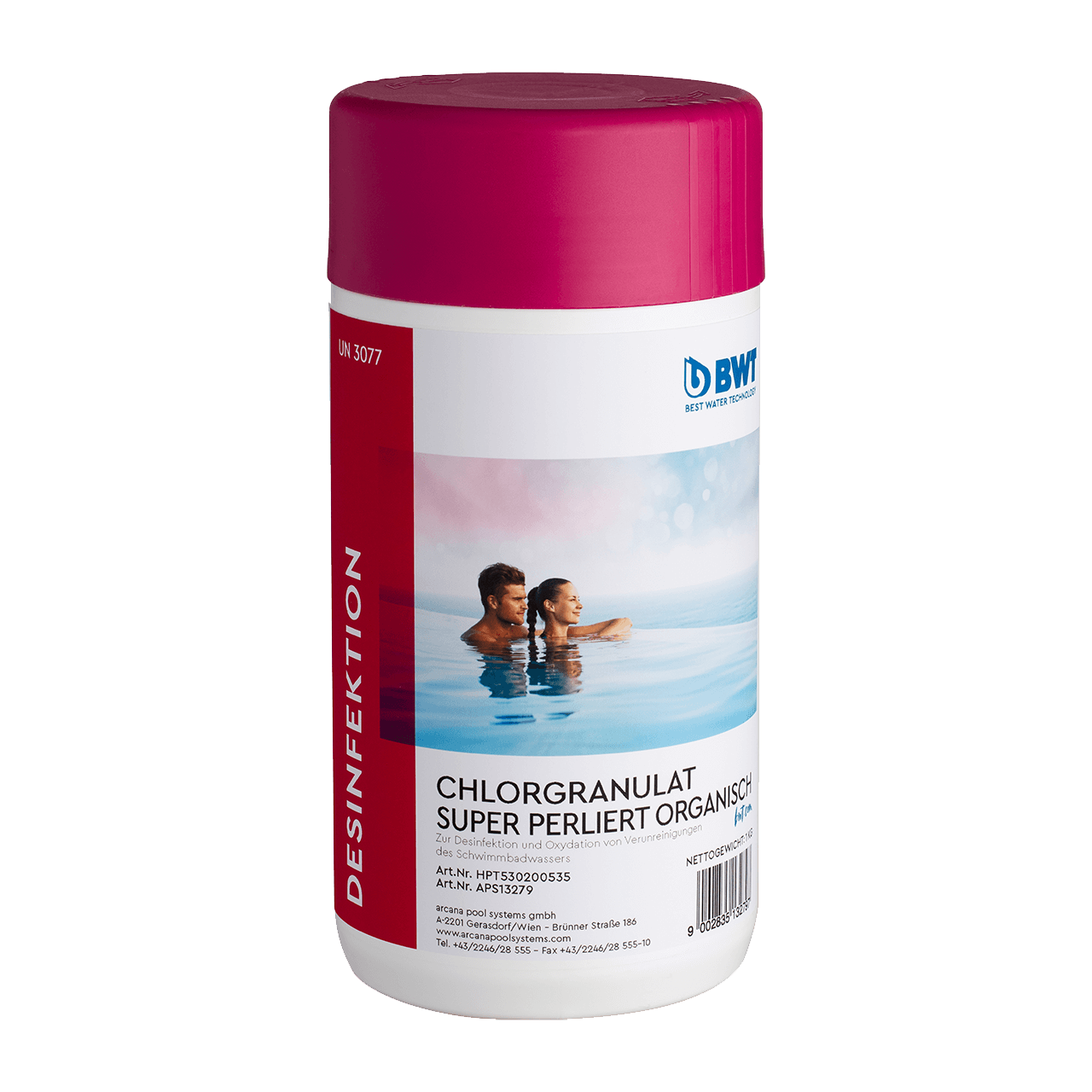 BWT chlorine granulate super pearls 1 kg
Ideal for initial filling, shock chlorination and re-dosing
This article is currently only available on request.
High-quality chlorine granulate in pearlised form
On an organic basis
Active chlorine content of 56%
Does not affect the pH value
Quickly dissolving
Suitable especially for use in hard pool water
Ideal for initial filling, shock chlorination and re-dosing
BWT chlorine granulate super pearls 1 kg
€19.90 Prices incl. VAT
High-quality fast-dissolving chlorine granulate, pearled, on an organic basis with an active chlorine content of 56 %. The product does not affect the pH value of the water and is also suitable for use in hard water. The granulate is ideal for initial filling, shock chlorination and re-dosing. Dissolve the chlorine granulate in a separate container and then add it to the pool water. Always follow all label instructions. Always close water care products securely and keep them away from children.
Hazard warnings

Use biocidal products carefully.
Always read the label and product information before use.


Attention! Observe danger and warning notes! Keep out of reach of children!


H302 Harmful if swallowed

H319 Causes severe eye irritation

H335 May irritate the respiratory tract

H410 Very toxic to aquatic organisms with long lasting effects

EUH031 In contact with acid, emits toxic gases
According to EC directives GefStoffV

Active chlorine content:

56 %

Algal prevention (starch):

No

Chlorine stabilisation:

Yes

Content:

1 kg

Depot effect:

1-3 days

Dosage:

10 m³ for initial filling 100 g/additional dosing 10-15 g daily

Filtermaterial:

All

Flocculation (strength):

No

Poolsize in m³:

0 - 10

Pool type:

Above ground pool

, Pistoche

, Whirlpool

Pool water condition:

Pool algae

Skimmer:

No

Solubility:

Very fast

Tablet size:

Granules

Treatment method:

Initial filling

, Shock chlorination

pH-Neutral:

Yes
For sure, the pH value is far outside the ideal range. The problem is solved with the appropriate pH correction.
No, each product is mixed separately and must also be added to the pool water separately.
The best way to measure the chlorine content is with the BWT AQA marin Pooltester 5 in 1 according to instructions
No. The addition to the pool should be done via the AQA marin dosing float, regardless of the pool size, while the pool water is circulating and bathing is not in progress. In addition, the products should be kept away from children (also when using the filled dosing float).
No. For shock chlorination, the AQA marin S-Chlor tablets are perfect, due to their active chlorine content of 56% percent and the quick release into the pool water.
Top-class products, great service
Professional services for you in our online shop