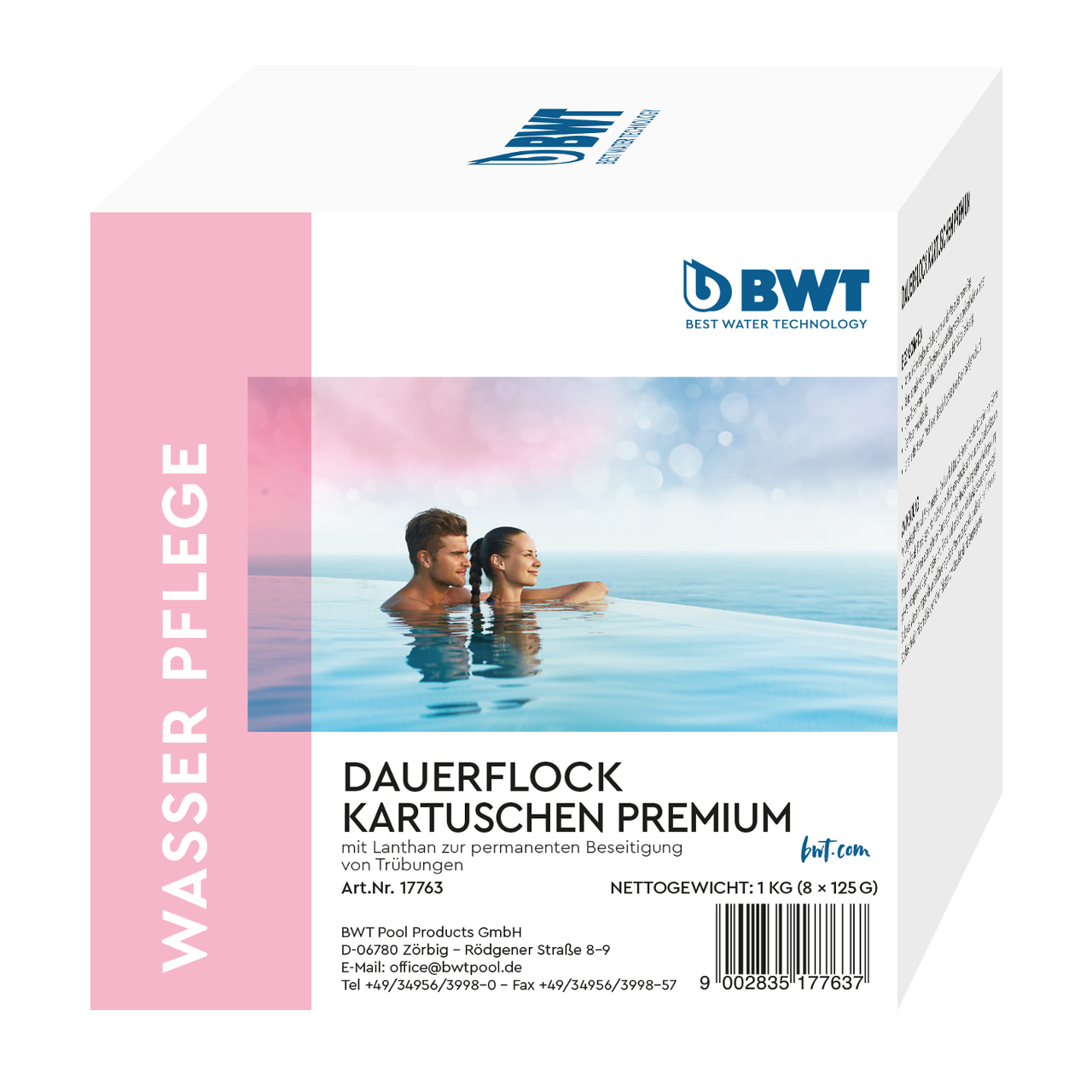 BWT permanent flocculant cartridges
For the permanent removal of turbidity
This article is currently only available on request.
Continuous release of flocculant into the pool water
Contains lanthanum which removes phosphates and copper
High prevention of algae
Makes pool water crystal clear
Binds small fine debris for better water quality
The optimum for a clear pool
High-quality product to eliminate and prevent turbidity in the pool. By continuously releasing flocculants into the pool water over several days, small, non-filterable dirt and suspended particles are bound and made filterable. The lanthanum contained in the flocculant removes metal ions as well as phosphates, thus providing excellent prevention against algae growth. Always follow all label instructions. Always close water care products securely and keep them away from children.
Hazard warnings
Use biocidal products carefully.
Always read the label and product information before use.


Attention! Observe danger and warning notes! Keep out of reach of children!
H290 May be corrosive to metals

H318 Causes severe eye damage

According to EC directives GefStoffV

Container size:

1 kg

Filtermaterial:

Sand / glas

Poolsize in m³:

10 - max

Pool type:

Above ground pool large

, Pool

Pool water condition:

Brown Water

, Cloudy water

, Pool algae

Skimmer:

Yes

Treatment method:

Flocculation
The AQA marin permanent flocculation cartridges bind the smallest dirt particles (sand, dust, sweat, etc.) in your pool into larger particles. These can be better caught by your sand filter, making your pool water clearer, more hygienic and cleaner. The AQA marin permanent flocculation cartridges require a pH range of 7.0 - 7.4 in order to develop their effect optimally.
We do not recommend the use of cartridge filter systems, as the filter cartridge clogs up very quickly and the filter performance decreases rapidly as a result.
The flock cartridges Dauerflock Premium are used both preventively and permanently.
The flock cartridges are placed in the skimmer to achieve a perfect and even release of active substances to the pool water.
We do not recommend using the flock cartridges Dauerflock Premium with cartridge filter systems, as the filter quality can be impaired.
The BWT AQA marin flock cartridge helps against clouding of the pool water. Especially in the case of very small suspended particles, the product helps to bind them and then filter them out.
Also helps with lime precipitation.
.
The flocculant was added too quickly or the reaction time (switch off the filter system for approx. 15 minutes) was not observed. Therefore, the flocculation only took place in the swimming pool. Remedy: Switch off the filter system, allow the flocs to settle and vacuum carefully.
With green water, always carry out shock chlorination. BWT AQA marin Algicid is a preventive product.
Top-class products, great service
Professional services for you in our online shop